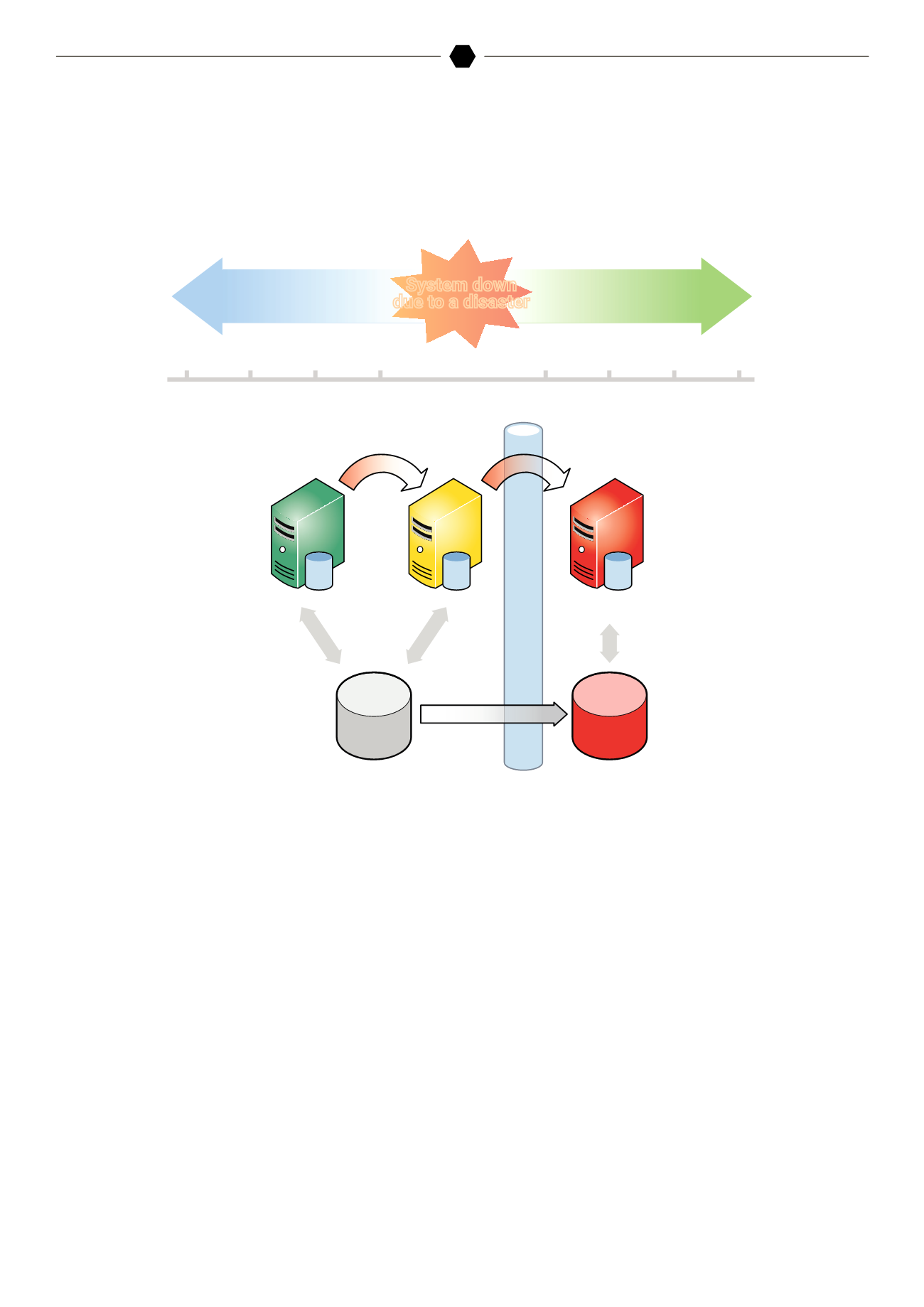 50
SBM'DEN
FROM SBM
İş sürekliliği ihtiyaçları, iş yapabilmek için IT bağımlılığının
günden güne artması ve 7/24 çalışması gerekli sistemlerin
zorumluluğu avalibility gereksinimlerini yüksek seviyelere
getirmiş durumda.
IT altyapısında kullanılan sistemlerin, %99,99 avalibility ile
çalışabilmesi için yıllık olarak en fazla 52 dakikalık kesinti-
nin yaşanması gerekiyor. Hedeflenen erişilebilirlik oranlarını
yakalayabilmesi için tüm IT altyapısının yedeklilik esasıyla
tasarlanması gerekiyor. Eğer altyapınızda yedekli olmayan
tek bir bileşeniniz varsa, zincirde bulunan zayıf halka gibi
tüm sisteminiz bu bileşenin sağlayacağı avalibility kadar
erişilebilir olacaktır.
Günlük rutin hayatımızda felaket şartlarını düşünmeden
yıllık olarak 52 dakikalık kesintiyi hedefleyerek kurduğumuz
IT altyapısının, ülke çapında yaşanabilecek felaketlerde
(deprem ya da bölgesel uzun süreli elektrik kesintisi)
yada kendi kurumumuza özel meydana gelebilecek(sel,
yangın,cihaz arızası vs) gibi problemlerde saatlerce,
Business continuity needs, ever increasing IT dependency for
doing work and requirement for systems that have to operate
24/7, have maximized availability requirement.
For the systems used within the IT infrastructure to work
with 99,99% availability, a maximum of 52 minutes of
interruption per year is allowed. In order for the IT
infrastructure to reach the target availability rates, the
whole IT infrastructure has to be designed based on the
backup principle. If you have even a single component that is
not backed up in your IT infrastructure, because of the weak
ring in the circle, your system's overall availability will be
only as much as the availability provided by this ring.
It would be a fatal and unacceptable mistake to take the risk
of allowing our IT infrastructure which was setup to have a
target annual interruption of 52 minutes to be shut down for
hours or days due to nationwide disaster like earthquakes
or regional long-lasting power outages or problems or
problems specific to our organization such as flood, fire,
RPO:
Recovery Point Objective
System down
due to a disaster
RTO:
Recovery Time Objective
Weeks
Weeks
Days
Days
Hours
Hours
Minutes
Minutes
time
F
a
i
l
o
v
e
r
F
a
i
l
o
v
e
r
Replicatio n
Primary Server
Disaster Recovery
Server
W
A
N
Remote Site
Local Site
Mirrored Storage
Shared Storage
Backup Server
DRC Gereksİnİmlerİ ve DRC Değİşİm Yönetİmİ
DRC Requirements and DRC Change Management