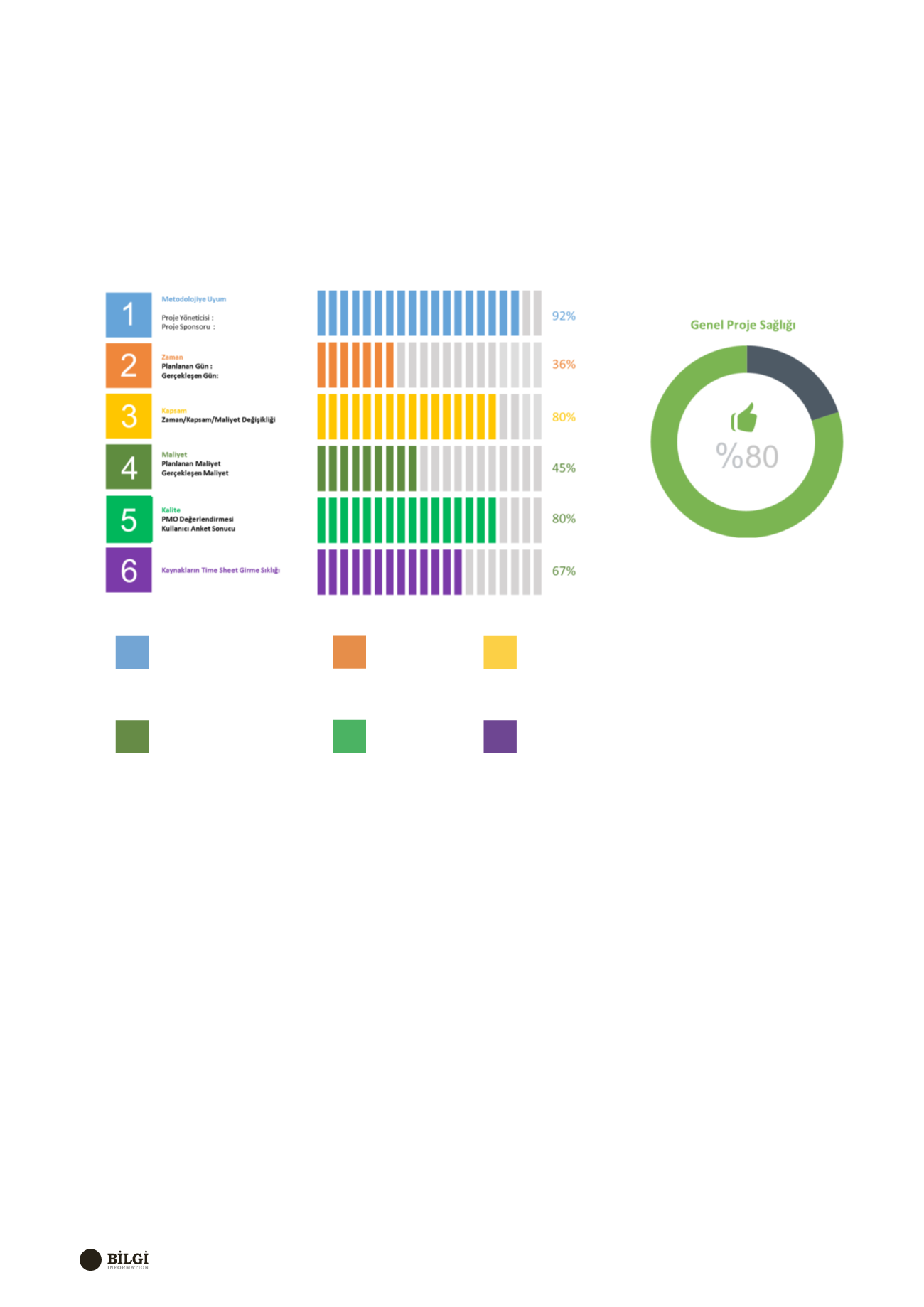 34
Bu yazıda sizlere özet olarak Talep Yönetimi'nin
kurumunuzda nasıl yapılandırılabileceği ile ilgili
bilgiler vermeye çalıştım. Ama nihai durumda
bu süreç kurumdan kuruma birçok farklılık
gösterebilir. Burada tamamen yeni bir Talep
Yönetimi süreci oturtmaya çalışan kurumlara
genel bir fikir vermesi hedeflenmiştir.
Talep Yönetimi Sürecinizi
yukarıda anahatlarıyla
bahsedildiği gibi oluşturabilirseniz, aşağıdaki gibi
birçok kazanım elde edebilirsiniz:
• Süreç hakimiyetini sağlamak; görev ve
sorumlulukları belirlemek,
• BT hedeflerinin iş ile uyumlu olmasını
desteklemek,
• İş ile uyumlu performans kriterlerinin
tanımlanmasını sağlamak,
• Müşteri ve tedarikçilerle hizmet seviyesi
Compliance with Methodology;
Project Manager,
Project Sponsor
Cost;
Planned Cost,
Realized Cost
Time;
Planned Day,
Lapsed Days
Quality;
PMO Evaluation,
User Survey Results
Scope;
Time/Scope/Cost Modification
Time Sheet Entry Frequency of the Resources
General Project Health
1
4
2
5
3
6
Uzman Gözüyle ·
Expert View
accordingly. The
dashboards
that may be
prepared in addition to this process then may
be used by the top management to monitor the
performances
of the employees. You may view an
example dashboard visual below.
Demand Management Summary
Cycle
The
Demand Management
is a process that may
be designed by each organization tailored to its
own needs. In this article, I attempted to provide
summarized information about how you may
structure the Demand Management in your own
organization. However, this process may differ
for each organization. I tried to provide a general
opinion for the organizations who are in seek of
establishing a Demand Management.
If you can generate your
Demand Management
Process
in line with the aforementioned general
framework, you may enjoy many benefits as
follows (not limiting):
• A solid process control with designated
duties and responsibilities
• To support the harmony between the IT