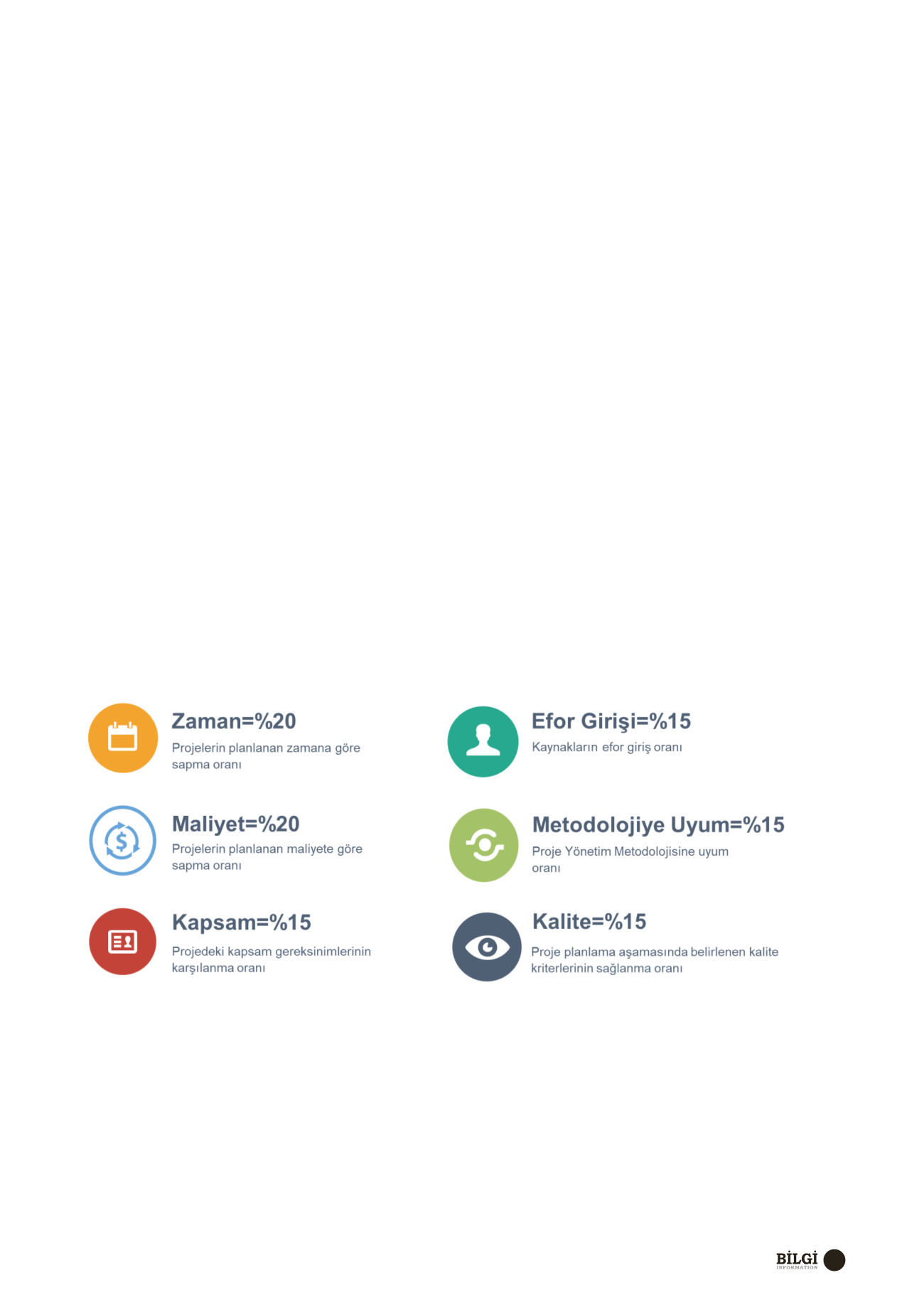 33
maliyet bilgileri, haftalık olarak tamamlanan işler
ve gelecek hafta yapılacak işler gibi bilgilere anlık
olarak erişilebilmesi sağlanabilir. Değerlendirmeler
sırasında tamamlandığı tespit edilen tüm talepler
de bu raporlamalarda gösterilmeli ve üst yönetim
bilgilendirilmelidir.
Talep Yönetimi ile Performans
Değerlendirme
Tamamlanan her talep ve proje için genellikle
performans değerlendirmeleri de yapılmalıdır. İyi
uygulama örneklerini incelediğimizde, çoğunlukla
talep ve proje tipi için 2 ayrı Proje Başarı Puanı
hesaplamasının yapılabileceği gözlemlenmiş olup,
aşağıda kullanılabilecek hesaplama kriterleri ile
ilgili örnek bilgilere ulaşabilirsiniz.
Projeler için Örnek Performans
Değerlendirme Kriterleri
Bu değerlendirmeler ekiplerinizin yıl sonu
performans değerlendirmesinde belirli bir oranda
olacak şekilde bir girdi olarak kullanılabilir
ve bu sayede daha ölçülebilir KPI metrikleri
oluşturabilirsiniz.
Bu sürece ilaveten hazırlanabilecek dashboardlar
ile de üst yönetimin çalışan performanslarını
izlemesi sağlanabilir.
Talep Yönetimi Özet Döngüsü
Talep Yönetimi her kurumun kendi ihtiyaçları
doğrultusunda tasarlayabileceği bir süreçtir.
Time: %20
The deviation ratio of the projects
from the planned time
Effort entry: 15%
Effort entry ratio of the sources
Compliance with methodology: 15%
The compliance ratio with the project management
methodology
Quality:15%
The ratio of fulfilling the quality criteria decided in the
project planning stage
Cost: 20%
The deviation ratio of the projects
from the planned budget
Scope: 15%
The ratio of meeting the scope/coverage needs
of the project
Expert View
· Uzman Gözüyle
step shall be intervened at once. The assessment
meetings shall be performed weekly and are
the most important tools for reviewing these
demands, understanding the latest status
data, monitoring and controlling. It is of great
important to perform such actions regularly
and report the results thereof uninterruptedly.
If possible, transforming the performance of
such actions to
an automated process
may
bring important cost advantages for your
organization. For instance, if the
weekly
reporting
of the projects underway to the management
is automated, then instant access to project
status, completion percentages, cost data, weekly
finalized works and works of next week etc.
information will be possible.
Any demand deemed to be completed through
such assessments shall also be demonstrated in
such reports and the top management shall be
informed accordingly.
Performance Assessment with
Demand Management
Any completed demand and project is, generally,
evaluated by means of performance. When we
look at the best practices, we observe that mostly
2 different Project Success Points
are calculated
for the
demands
and
projects.
You may see
the exemplifying information related to the
calculation criteria that may be used.
These assessments may be used as inputs, in
a certain ratio, for the year-end performance
evaluations of your teams; whereas, you
may generate more measurable KPI metrics