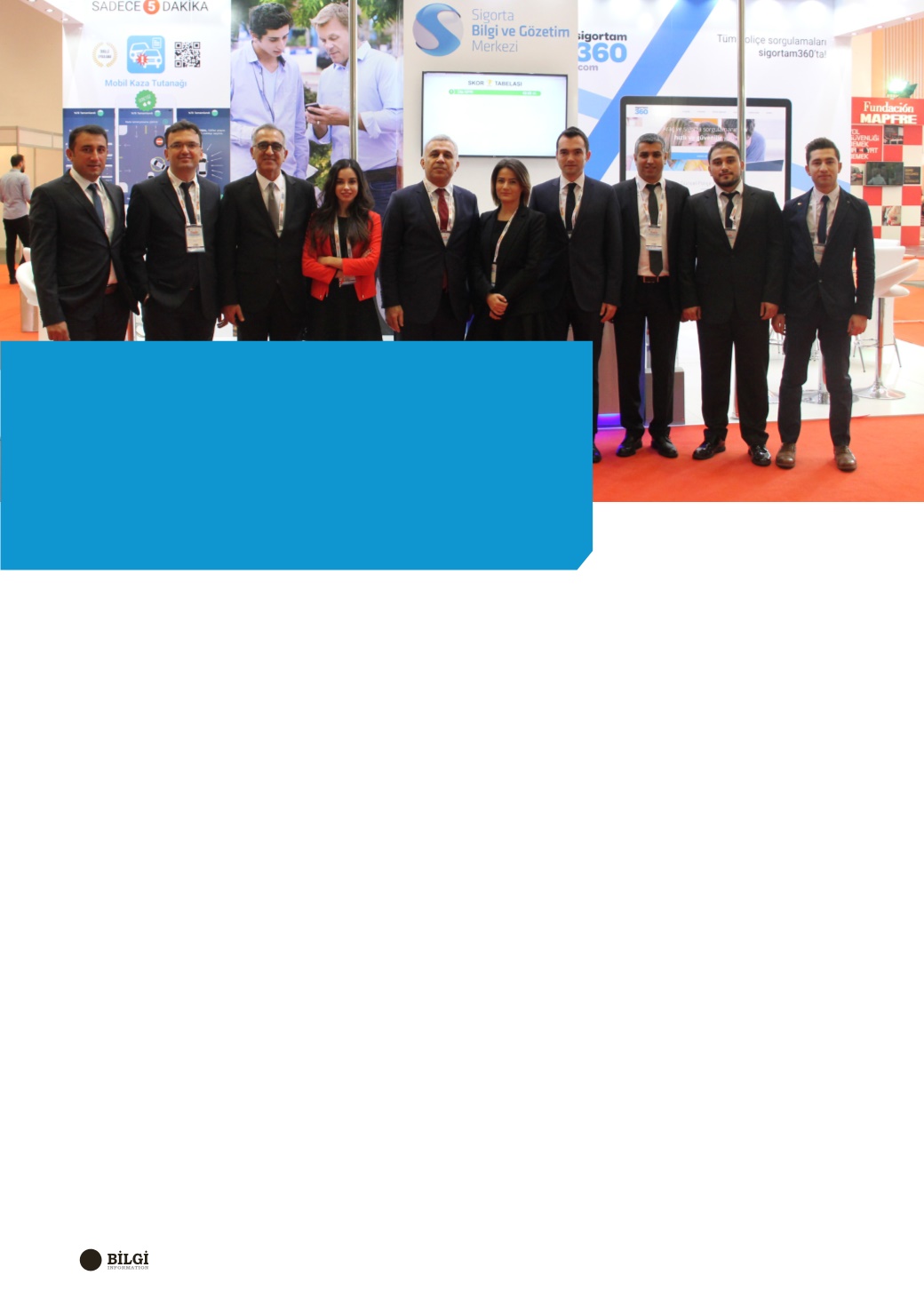 40
Ankara Chamber of Commerce (ATO) organized
the 8th Road Traffic Safety Symposium and Fair
through the dates 16-17-18 November 2017 in its
congress centre.
The fair has been realized with the cooperation of
Ministry of Internal Affairs (Security Forces General
Directorate and Gendarme General Headquarters),
Ministry of Science and Technology, Ministry of
Transport, Maritime Affairs and Communication,
Ministry of National Education (Private Education
Institutions General Directorate), National
Association of Municipalities and TŞOF (Turkish
Drivers and Vehicle Owners Association), and
plus other supporting bodies, aiming to establish
an environment which will assist the road
traffic safety and through which the works and
experiences of the producers, practitioners and
scientists shall be shared mutually.
The fair, fortunately, turned to be the biggest traffic
safety event of Turkey and Insurance Information
and Monitoring Centre (SBM) booth was rushed
by many visitors. We had the chance to present
our innovative projects, namely, Mobile Accident
Report, 5664 SMS Service and Sigortam360
services.
Throughout the event, we have organized a
contest seeking the fastest participant to finalize
the Mobile Accident Report entry through Mobile
Accident Report application and the winners are
given their respective awards.
SBM, 8. KARAYOLU TRAFİK
GÜVENLİĞİ SEMPOZYUMUVE
FUARI'NDA!
SBM JOINED THE 8TH
ROAD TRAFFIC SAFETY
SYMPOSIUM!
Ankara Ticaret Odası (ATO) Kongre Merkezi'nde,
16-17-18 Kasım 2017 tarihlerinde 8. Karayolu Trafik
Güvenliği Sempozyumu ve Fuarı düzenlendi.
Fuar, karayolu trafik güvenliğine katkı sağlanması
amacıyla, üretici, uygulayıcı ve bilim insanlarının
çalışmalarının ve tecrübelerinin karşılıklı olarak
paylaşılacağı bir ortamın oluşturulması için İçişleri
Bakanlığı (Emniyet Genel Müdürlüğü, Jandarma
Genel Komutanlığı), Bilim, Sanayi ve Teknoloji
Bakanlığı, Ulaştırma, Denizcilik ve Haberleşme
Bakanlığı, Milli Eğitim Bakanlığı (Özel Öğretim
Kurumları Genel Müdürlüğü), Türkiye Belediyeler
Birliği ve TŞOF işbirliğinde ve destekleyici
kuruluşların katkılarıyla gerçekleştirildi.
Türkiye'nin en büyük karayolu trafik güvenliği
etkinliğine dönüşen fuarda, ziyaretçi akınına
uğrayan Sigorta Bilgi ve GözetimMerkezi
standımızda inovatif projelerimiz olan Mobil
Kaza Tutanağı, 5664 SMS Servisi ve Sigortam360
hizmetlerimizi tanıttık.
Etkinlikte, Mobil Kaza Tutanağı uygulamasının
doldurulmasına dair yarışmada, en hızlı kaza
tutanağı girişini Mobil Kaza Tutanağı uygulaması
ile gerçekleştiren ziyaretçiler ödüllendirildi.