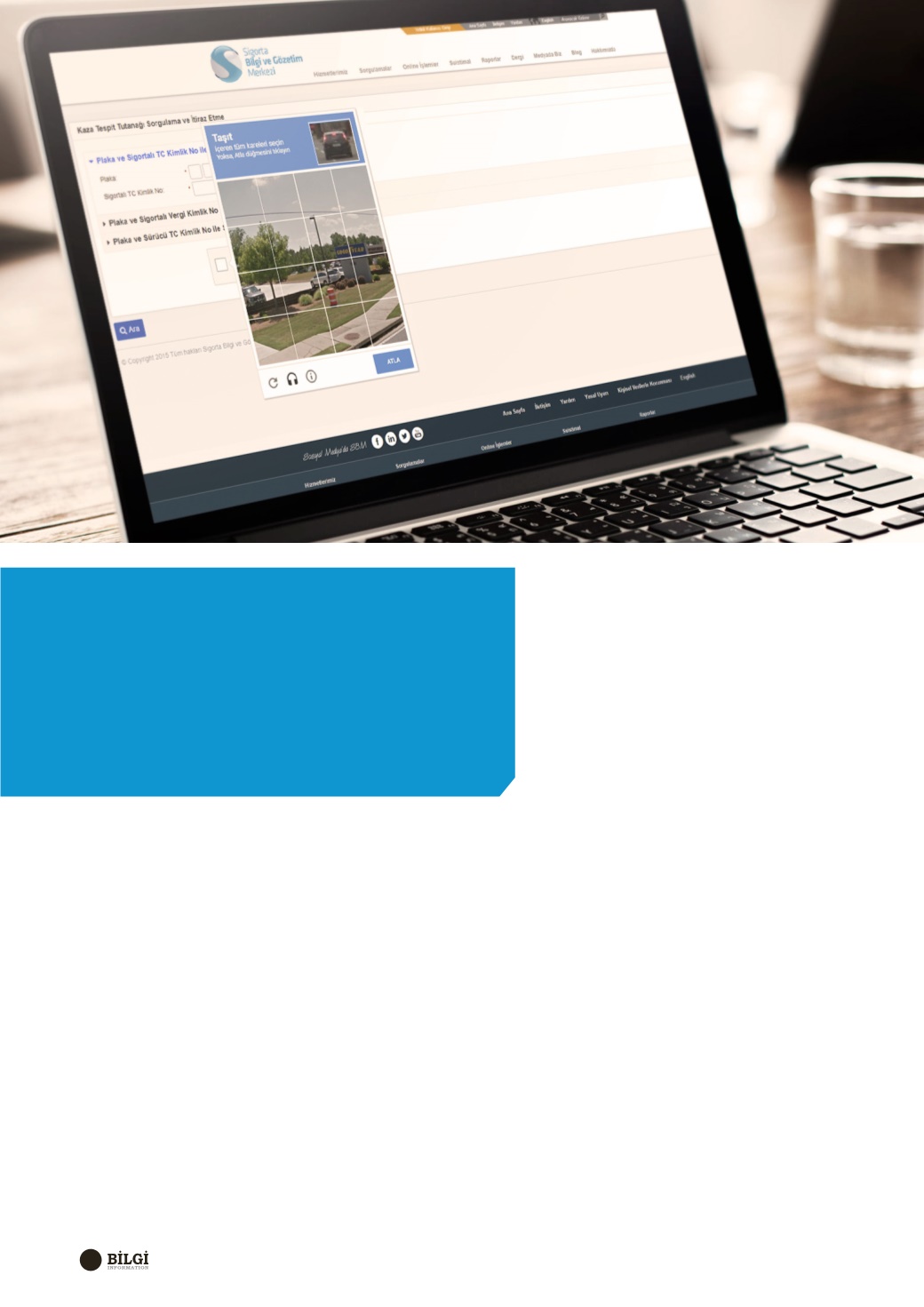 38
CAPTCHA (Completely Automated Public Turing
Test To Tell Computers and Humans Apart) is a
test targeting to distinguish the humans and the
computers. CAPTCHA is used worldwide as a
security measure aiming to stop the malware trying
to access for certain poages, It has been introduced
by Carnegie Mellon University in the year 2000
for the first time whereas SBM also uses to protet
its certain pages in which vehicle data, policy
details etc. sensitive information may be viewed.
Accordingly, the robotic malware efforts to capture
the information in SBM pages are prevented.
The image processing, machine learning etc.
technologies have developed in a fast manner
and the robotic software concept is a threat now
bigger than it was in past. Thus, many CAPTCHA
practices used to function in SBMwebsite (such
as «type the displayed characters in the following
space») started to be obsolete. Google recognized
CAPTCHA İLE DAHA
GÜVENLİ, DAHA KOLAY
SORGULAR
SAFER AND EASIER
QUERIESWITH
CAPTCHA
CAPTCHA (Completely Automated Public
Turing Test To Tell Computers and Humans
Apart), insanlar ile bilgisayarları ayırt etmeyi
hedefleyen bir testtir. Belli sayfalara erişmeye
çalışan kötü amaçlı yazılımları durdurmak
için tüm dünya tarafından bir güvenlik önlemi
olarak kullanılmaktadır. İlk olarak 2000 yılında
Carnegie Mellon Üniversitesi tarafından öne
sürülen CAPTCHA, araç bilgileri ve poliçe detayları
gibi hassas bilgilerin görüntülenebildiği SBM
sayfalarında da kullanılmaktadır. Böylece SBM
bünyesindeki sorgulanabilir bilgilerin kötü amaçlı
robotik yazılımlar tarafından ele geçirilmesi
engellenmektedir.
Günümüzde görüntü işleme, makine öğrenimi
gibi teknolojilerin hızla gelişmesiyle robotik
yazılımlar eskisinden daha büyük bir tehdit haline
geldi. Bu nedenle eskiden SBM bünyesinde de
kullanılan "Resimde gördüğünüz karakterleri