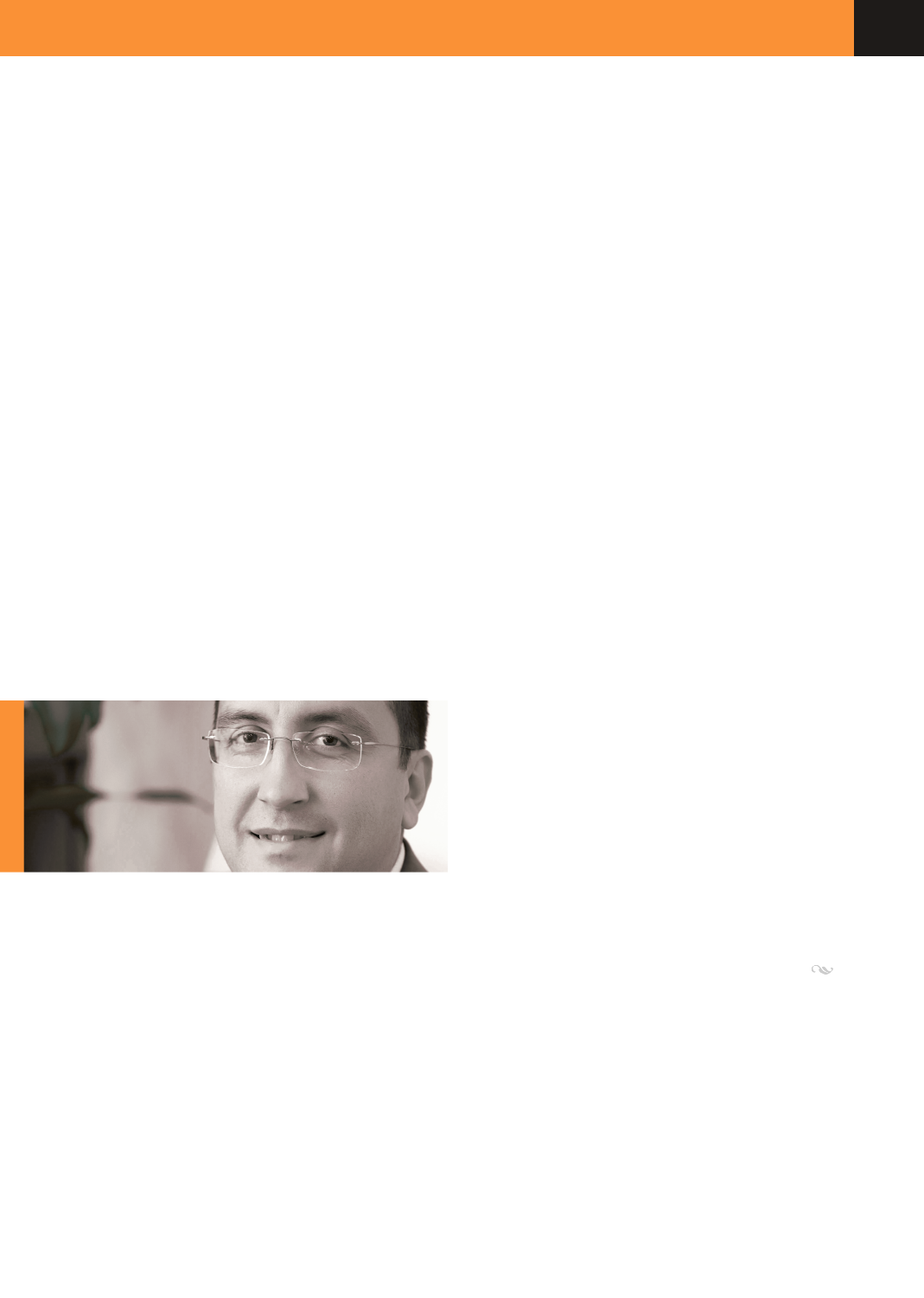 SBM achieves
organizational advances
as well as strengthening
its software and hardware
infrastructure to meet
sectoral expectations.
How do you assess the IT committees, the
common work of SBM and the insurance
business?
It is very important that Insurance Information and
Monitoring Center, which is a formation created by
the sector, acts together with the sector in projects it
would materialize. Operations planned by Companies
to materialize their business plans and projects to be
materialized by the Center not interacting with each
other is an element that impacts the success of projects
that companies or the Center would materialize. In this
frame, in order to create common solutions with insurance
companies and jointly set project time plans, it is deemed
very useful to establish IT Committees for non-life and life
branches. Nevertheless, it is also important for finalizing
the studies in a smooth and successful manner that
projects to be realized would be assessed in terms of
legal issues and insurance technique, keep in touch with
relevant parties for this purpose.
Which other data to be gathered by SBM do
you think would be useful for the insurance
business?
As stated before SBM has goals such as;
• Achieving a unity of practice,
• Healthy pricing,
• Fraud prevention,
• Creating reliable statistics,
• Increasing trust for insurance system,
• Making public monitoring/control more effective
In this frame, it is considered very useful to first add fire
insurances and individual accident insurances among the
insurance branches whose information are kept by the
Center. Besides, it is at least as important as gathering
new data to make certain areas "compulsory areas" and
establish control mechanisms by evaluating existing data
structures, for reaching correct analysis results.
a more extensive and effective manner, achieving a unity
of practice in the sector, healthy pricing, fraud prevention,
creating reliable statistics, increasing trust for insurance
system, and making public monitoring/control more
effective. For this purpose, it is an important organization
for our business, who gathers information that are basis
for risk assessments, including false insurance practices,
and who presents such gathered information, regarding
insured parties and those who indirectly benefit from
insurance contracts, to relevant parties, especially
insurance companies.
Can we learn your opinions on SBM's new
approach and studies?
Not only Insurance Information and Monitoring Center's
but all institutions' goal is to advance their past
accomplishments. At this stage, Insurance Information
and Monitoring Center is strengthening its software and
hardware infrastructure to perform its legislative duties
and to meet sectoral expectations, as well as achieving
organizational advances. In this frame, it is obvious that
the new implementations and approaches by the Center,
which has a common database, would contribute greatly
to our sector. However, it is essential that all advances
must be made in coordination with the sector.
INTERVIEW 9