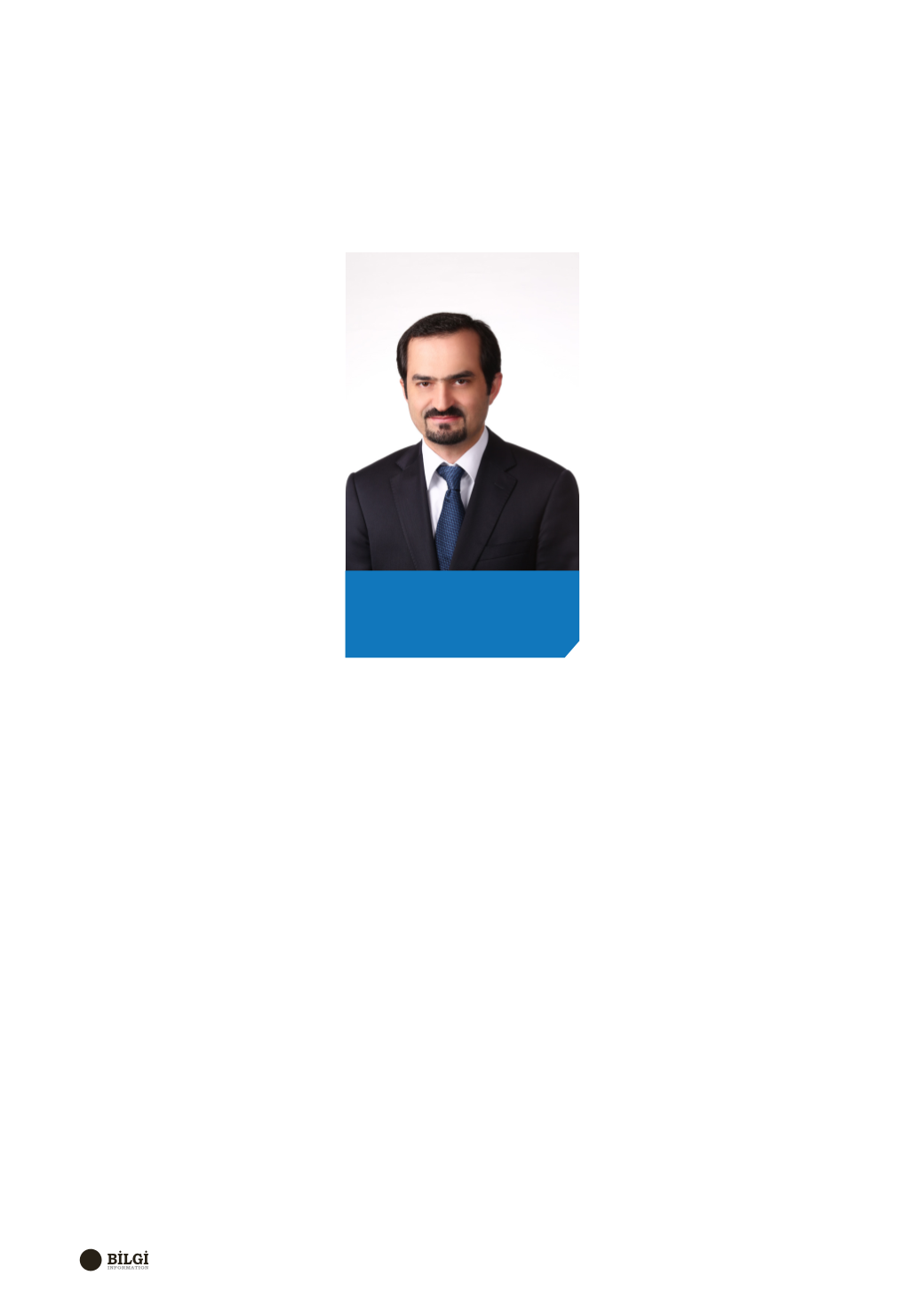 54
Uzman Gözüyle ·
Expert View
İş Zekası sistemleri iş sorularına
verdikleri hızlı ve doğru cevaplar
ile yapılan işin anlaşılmasına,
yeni anlamlar çıkarılarak bu
çıkarımlardan yeni kararlara
ulaşılmasına yardım ederler.
Sigorta Bilgi ve Gözetim Merkezi
(SBM)'nde İş Zekası Ekibi olarak
gerçekleştirdiğimiz
Self-Servis
İş Zekası projesi ile bini aşkın
sigorta profesyonelinin SBM'de
toplanan veriler üzerinden analiz
yapabilmelerine ve sektörle ilgili
kararları alırken doğru hareket
etmelerine destek veriyoruz.
Nasıl
bir
iş
yaptığımızı
somutlaştımak
için,
Türkiye
sigorta sektörü özelinde bazı
sorular sorup analizler yapalım
ve
geliştirdiğimiz
sistemin
sektöre neler katabileceği ile
ilgili biraz fikir edinelim. Sigorta sektöründe 2016
yılında yaklaşık 35 milyarı Elementer(Hayat-Dışı)
branşlarda 5 milyarı ise Hayat branşlarında olmak
üzere 40 milyar TL'nin üzerinde prim üretimi
yapıldı. Bu rakam 2015 yılına göre %30 artışı ifade
ediyor. Elementer prim hacminin %35'ini 12.5
milyar TL ile Trafik Sigortası oluşturuyor ve 2015'te
bu üretim yaklaşık 7 milyar TL olarak gerçekleşmiş.
Ürün bazında %80'e yakın bu artış sektördeki
%30'luk prim artışının 20 puanını oluşturuyor. Bu
da, sektördeki büyümenin üçte ikisinin Trafik ürünü
kaynaklı olduğunu gösteriyor.
Trafik Sigortası, Türkiye'de trafiğe çıkan her
araç için yaptırılması zorunlu olan ve sigortalı
araç vasıtası ile üçüncü şahıslara verilen maddi
ve bedeni hasarları Hazine Müsteşarlığı'nın
belirlediği limitler dahilinde teminat altına alan bir
sorumluluk sigortasıdır. Teminatlar sabit olmakla
beraber, fiyatlar 2017 Nisan ayına kadar şirketlerce
serbest olarak belirlenmekteydi ve araç sahipleri
geçmişteki hasarlarına göre indirimli veya sürprimli
poliçe satın almaktaydı.
Business Intelligence systems
help its users understand their
business by answering questions
fast and accurate, reach new
conclusions from the answers
and take decisions by means of
these conclusions. The Business
Intelligence team at Insurance
Information and Monitoring
Center (SBM), implemented
a
Self-Service
Business
Intelligence project, to allow
over one thousand insurance
professionals make analyses
based on data collected at SBM
and to help them act correctly
while making decisions regarding
the sector.
In order to better demonstrate
the type of work we do, let's ask
some specific questions about
Turkish insurance industry and do some analyses
and get some ideas in order to understand what
value the new self-service model can add. A total
of 40 billion TL premium has been written in the
insurance industry in 2016. 35 billion TL of this
amount was from Elementary (Non-life) Insurance
branches while 5 billion TL from life insurance. This
figure represents a 30% increase compared to 2015.
35% of the written premium in the Elementary
Insurance branch comes from Motor Third Party
Liability (MTPL) Insurance, which corresponds, to
12.5 billion TL and the figure was 7 billion TL in 2015
in contrast. This 80% increase inMTPL corresponds
to 20 points of the 30% premium increase in the
sector. And this shows that one third of the growth
in the sector stems fromMTPL.
MTPL isa liabilityproductwhich ismandatory for all
vehicles in traffic in Turkey and provides coverages
within the limits set by the Undersecretariat of
Treasury, for material and physical damage given
to third parties via the insured vehicle. While the
coverage is fixed, prices were to be determined
by the insurance companies independently until
Undersecretariat of Treasury has ruled limits
in April 2017 and vehicle owners were able to
get discounted policies or surcharged policies
depending on the claims they filed in the past.
SÜRÜKLE-BIRAKLARLA SELF-SERVİS SEKTÖR ANALİZİ
SELF-SERVICE SECTOR ANALYTICS VIA DRAG-AND-DROP
Ahmet Şişek
İş Zekası
Business Intelligence