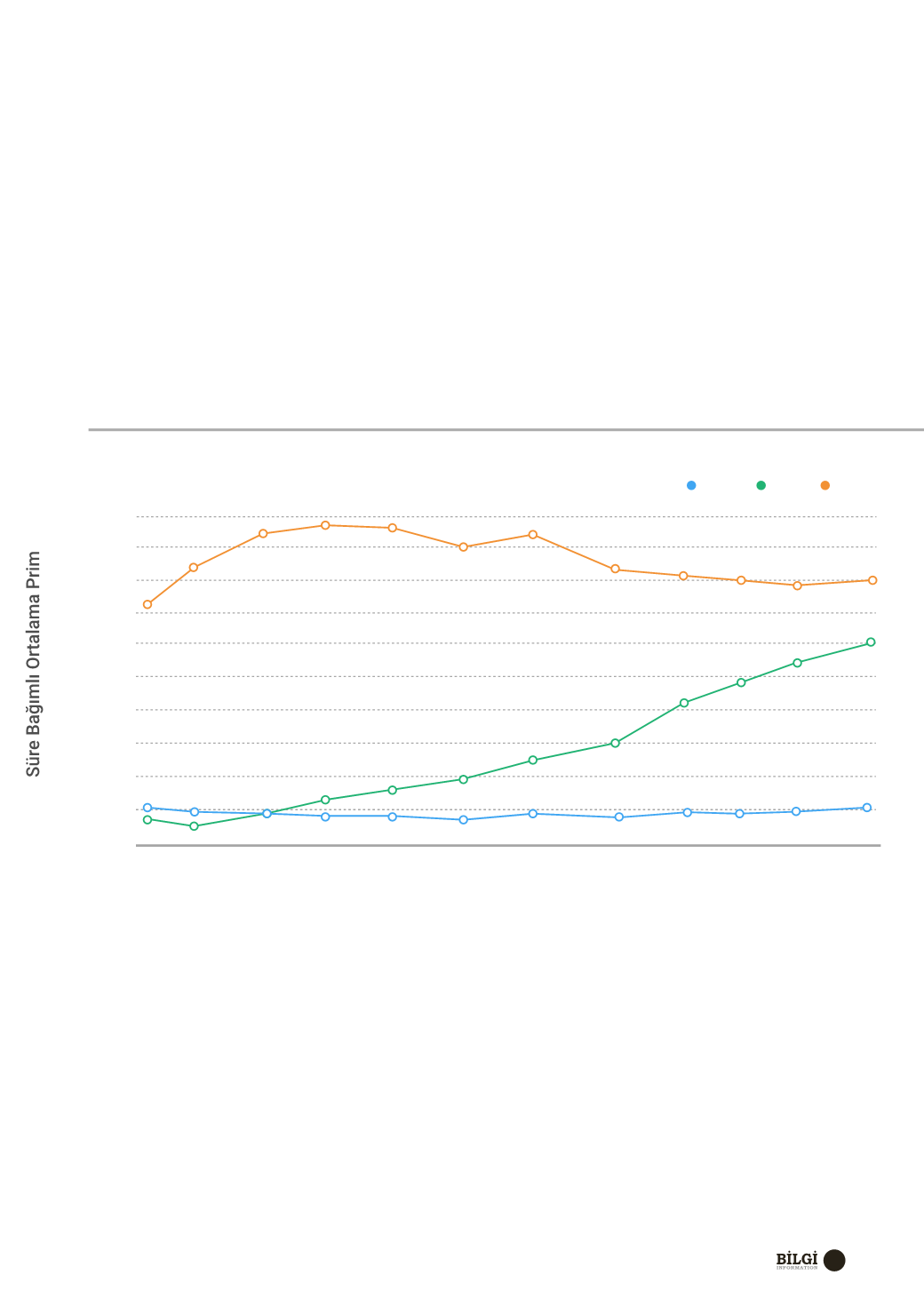 55
Expert View
· Uzman Gözüyle
Let's ask a few questions from the above
information; do people take price-driven actions
when buying insurance policies that have fixed
coverages?
The chart below shows the change in the average
amount of written premiums in the automobile
vehicle group of MTPL insurance.
As you can see in the line chart above, while the
prices are low and stable in 2014, a dramatical
rise has started since the second quarter of 2015.
The rising trend has continued in the first quarter
of 2016 and then followed by a more static and
slightly downward picture.
Yukarıdaki bilgilerden hareket ederek birkaç
soru soralım; sigortalılar teminatları sabit olan
trafik poliçesi satın alırken fiyat odaklı mı hareket
etmekte?
Aşağıdaki grafikte, Trafik Sigorta'larında otomobil
araç grubunda süre bağımlı yazılan poliçe primi
değişimi gösterilmiştir.
Grafikten görüleceği üzere, 2014 yılı fiyatların düşük
ve durağan olduğu bir yıl iken, 2015 ikinci çeyrek
başından itibaren fiyatlar dramatik bir şekilde
yükselmeye başlamıştır. 2016 ilk çeyrekte yükselme
devam etmiş, sonrasında ise daha durağan ve biraz
aşağı yönlü bir görüntü çizmiştir.
Grafik 1 – Trafik Ürünü Otomobil Araç Grubu Ortalama Yazılan Primi (Süre Bağımlı)
Graph 1 – AverageWritten Premium in Liability Insurance Automobile Category (Time Dependent)
200
Time Dependent Average Premium
250
300
350
400
450
500
550
600
650
700
2014 2015 2016
01
02
03 04
05
06
07
08
09 10 11
12