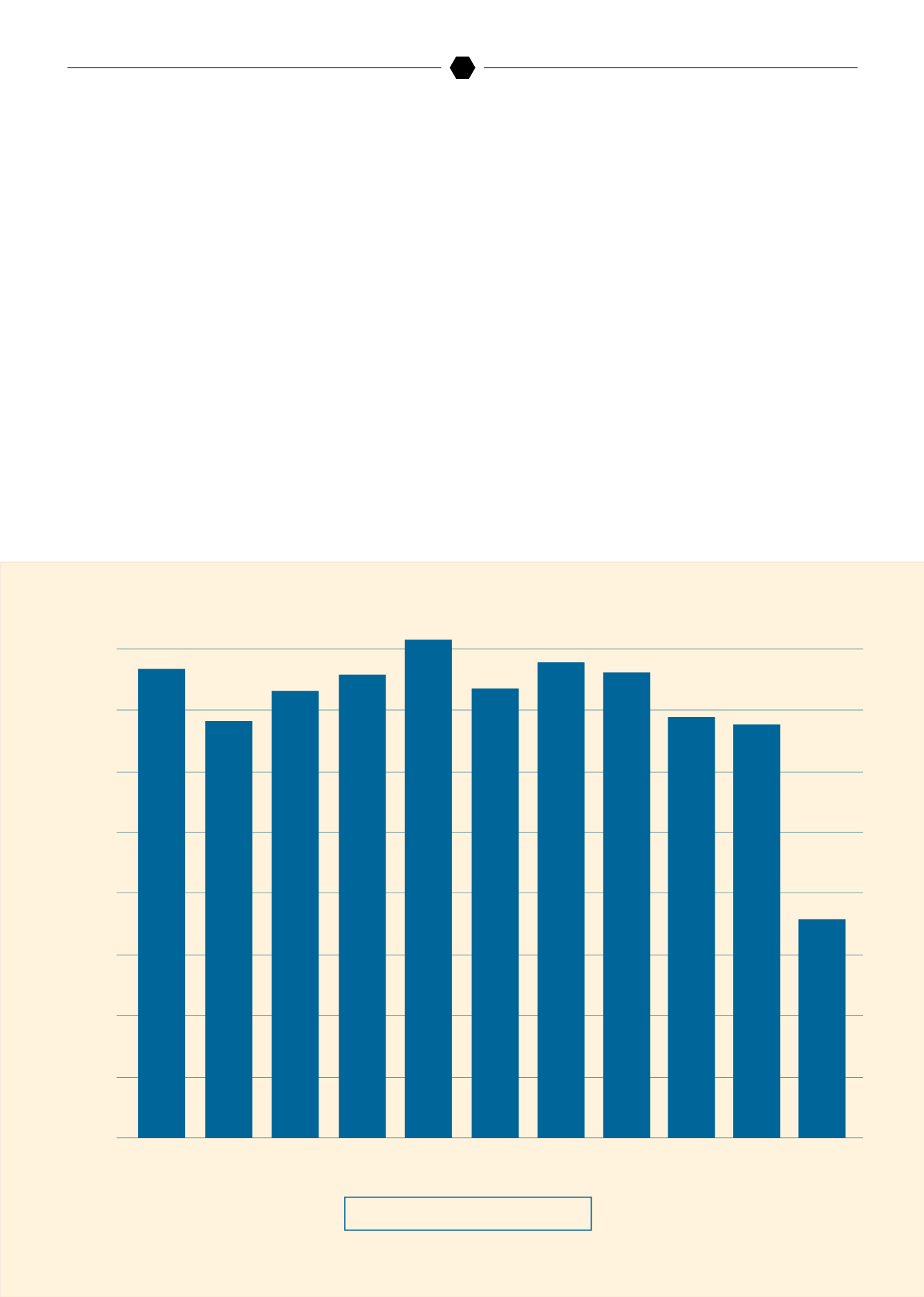 63
Elektronik ortamda Merkezimize iletilen kaza tespit
tutanaklarından elde ettiğimiz istatistiklere göre, 2015 yılı
ilk 11 ay ortalamalarına istinaden günde takribi 2,363 adet
tutanak sistemlerimize aktarılmaktadır. 2015 Ocak-Kasım
verilerine göre toplam 775 bin kazanın %35'sı İstanbul'da
gerçekleşmiştir. İstanbul'u %10'luk oranla Ankara, %8'lik
oranla İzmir izlemektedir.
En az kazanın gerçekleştiği ilimiz ise Hakkari'dir. Hakkari'de
2015 yılının ilk 11 ayında toplam 110 kaza gerçekleşmiştir.
Hakkari'den sonra en az kaza gerçekleşen diğer illerimiz
sırasıyla Ardahan, Tunceli ve Kilis'tir.
According to statistics based on the accident reports sent
electronically to our center, during the first 11 months of
2015, on average 2,363 accidents per day were sent to our
system electronically. Based on data from the period of
January-November 2015, 35% of the 775 thousand accidents
took place in Istanbul. Istanbul is followed by Ankara with a
share of 10% and by Izmir with a share of 8%.
The city with the lowest number of accidents is Hakkari.
During the first 11 months of 2015, a total of 110 accidents
took place in Hakkari. After Hakkari, other cities with the
lowest number of accidents are Ardahan, Tunceli and Kilis.
KAZA TESPİT TUTANAĞI(KTT) İSTATİSTİKLERİ
Accident Report (KTT) Statistics
RAPOR
REPORT
80.000
70.000
-
-
-
-
60.000
-
-
-
-
50.000
-
-
-
-
40.000
-
-
-
-
30.000
-
-
-
-
20.000
-
-
-
-
10.000
-
-
-
-
0
75.778
69.192
72.252
75.207
80.120
73.726
78.570
69.555
69.268
35.693
75.961
OCAK
JANUARY
ŞUBAT
FEBRUARY
MART
MARCH
NİSAN
APRIL
MAYIS
MAY
HAZİRAN
JUNE
TEMMUZ
JULY
AĞUSTOS
AUGUST
EYLÜL
SEPTEMBER
EKİM
OCTOBER
KASIM
NOVEMBER
Kaza Tespit Tutanağı Adetleri
Number of Accident Reports
TOPLAM
/ TOTAL
: 775.322