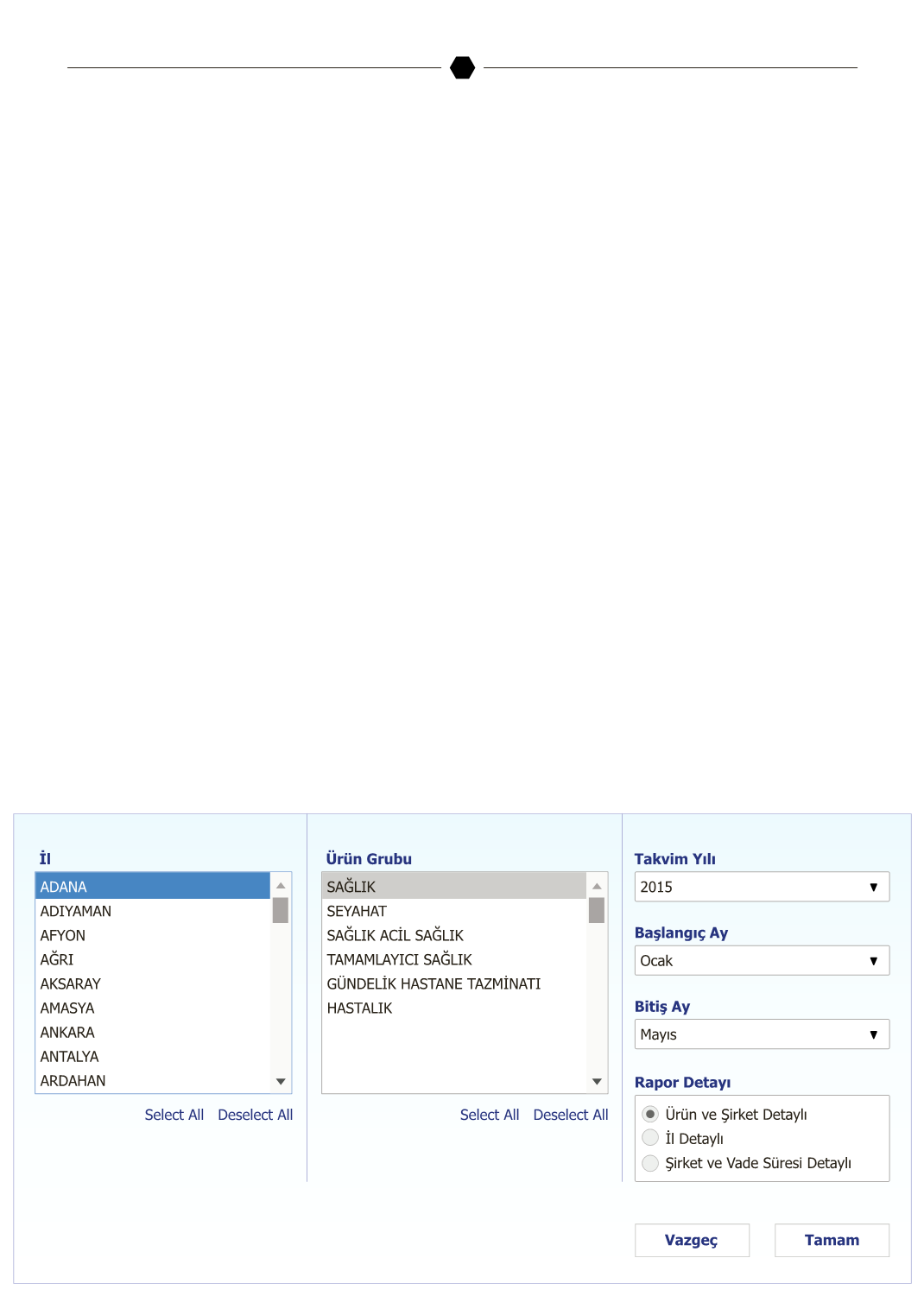 29
Merkezimizin sunduğu istatistiki bilgilerin çeşitlendirilmesi
ve bu bilgilere erişimin artırılması amacıyla web uygu-
lamamızdan sunulan İş Zekası raporları altında Sağlık ve
Seyahat-Sağlık Üretim Raporları kullanıma açılmıştır.
Sağlık şirketlerinin SBM'ye transfer ettiği veriler
maksimum fayda sağlayacak şekilde gruplandırılıp,
farklı kırılımlarda sigorta şirketlerinin ve ilgili kurum ve
kuruluşların istifadesine sunulmaktadır. Sağlık ve Seyahat-
Sağlık Üretim Raporu çalışması kapsamında takvim yılı,
başlangıç ve bitiş aylarına göre il ve ürün grubu bazında
seçimli alanlar mevcut olup, kullanıcının ihtiyacına göre
seçim yapılabilmektedir. Ayrıca rapor detaylarında il, ürün
ve şirket, şirket ve vade süresi detaylarına göre raporlar
listelenebilmektedir.
We've recently launched the Health and Travel Health
Insurance Policy Generation Reports under Business
Intelligence Report on our web application for use by insur-
ance companies, with the purpose of diversification of the
statistical information offered by our center and facilitating
access to this data.
Data transferred to SBM by healthcare organizations are
grouped in a manner to provide maximum benefit and
are presented to insurance companies and relevant insti-
tutions and organizations in different sub-categories. The
Travel Policy Generation report allows the user to make se-
lections on the basis of calendar year, start and end dates,
city and product group and users can filter the report based
on these options depending on their needs. Also the users
can list reports based on details like city, product and com-
pany, company and maturity date.
HEALTH AND TRAVEL HEALTH INSURANCE POLICY GENERATION REPORTS
ARE NOW ON BUSINESS INTELLIGENCE WEB PORTAL
SAĞLIK VE SEYAHAT-SAĞLIK ÜRETİM RAPORLARI
SBM İŞ ZEKÂSI WEB PORTALİNDE
SBM'DEN
FROM SBM