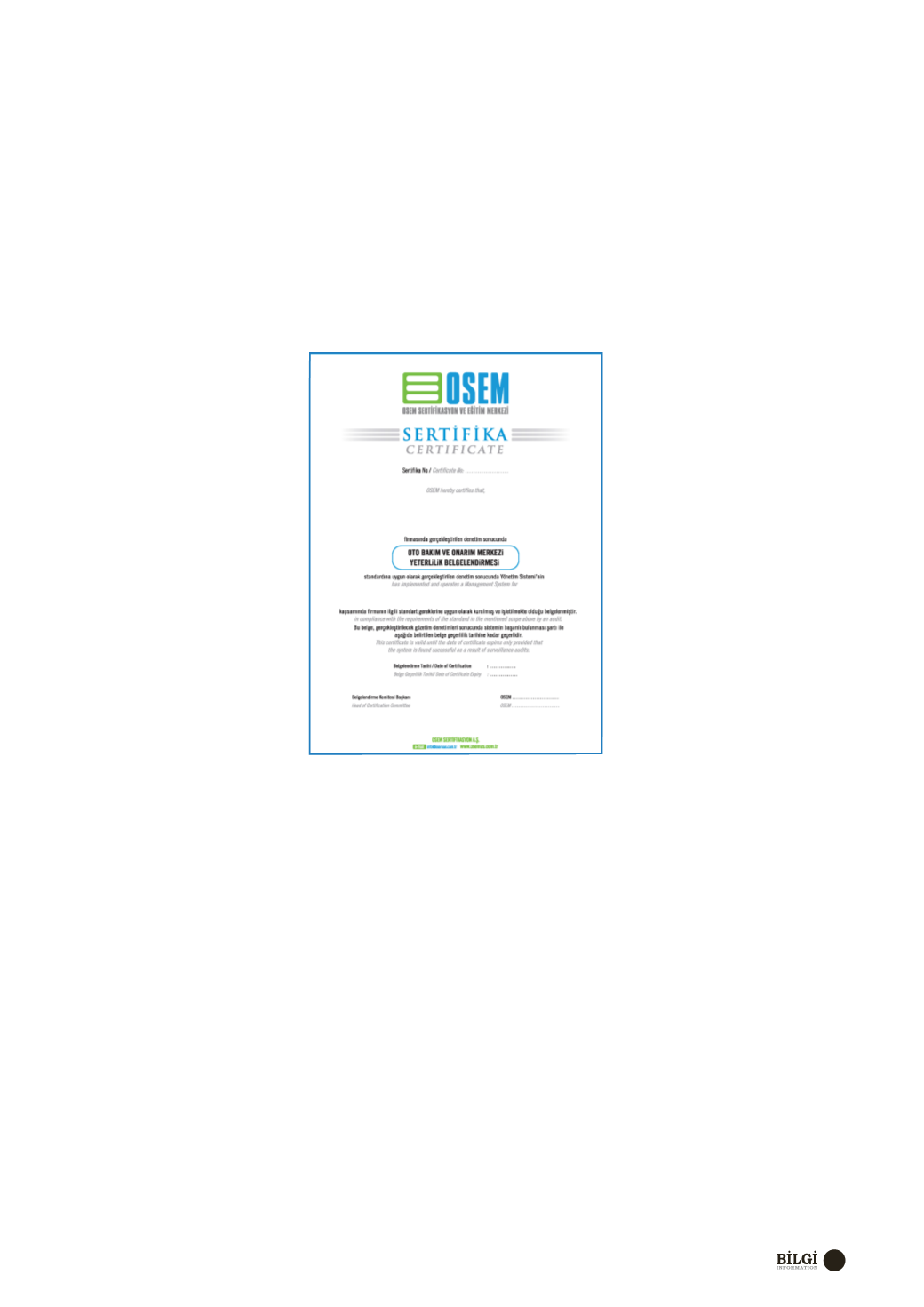 15
Sektörel standardizasyonun oluşturulması ile
sertifikasyon süreçlerinin desteklenmesi, zaman
içinde bilgi birikimlerinin sektöre aktarılmasına
da zemin hazırlayacaktır. Oluşacak tecrübelerin
önemli faydalar sağlayacağı öngörülmektedir. Çok
dinamik olan otomotiv sektöründe yeniliklerin
takip edilebilmesi, kabul edilebilir araç onarım
yöntemi altyapılarının her dönem daim olabilmesi
için önerilen hizmetlerin hayata geçirilmesi anlamlı
olacaktır.
Her birimde toplam kalite
anlayışıyla oluşan standart
yaklaşımlarının
güven
ortamını sağlamlaştıracağı,
buradan
elde
edilecek
sonuçlarla da sektöre büyük
faydalar sağlayacağı kesindir.
Bu anlayışlaTSB kuruluşu olan
OSEMhizmetlerinin oto hasar
birimlerince hasar yönetimi
süreci içine dahil edilebilmesi
ile
otomotiv
sektöründe
hizmet üreten tedarikçiler
arasındaki doğru rekabet
ortamı
da
geliştirilebilir,
sigortalı
memnuniyetinde
süreklilik sağlanabilir.
OSEM'in bu hizmet altyapılarının gerçekleşmesinde
işbirliği içinde olduğu en önemli kurum Sigorta
Bilgi ve Gözetim Merkezi (SBM)'dir. Şirket amaçları
çerçevesinde OSEM adına veri madenciliği ve IT
altyapıları SBM işbirliği ile sağlanmaktadır. Sigorta
sektörünün bilgi merkezi niteliğinde ve kamusal
alandaönemlibirmisyonasahipolanSBM'ninsigorta
şirketleri ile olan entegrasyonu sayesinde OSEM
ürünlerinin/hizmetlerinin kullanımı daha etkin ve
kolay olacaktır. Aynı zamanda standardizasyon ve
sertifikasyon çalışmaları kapsamında OSEM-SBM
teknolojik işbirliği ile sektörel bilgilerin güvenli bir
zeminde yer bulmasına katkı sağlanacağı ve oto
branşında zaman içinde önemli bilgi birikimlerinin
olacağı öngörülmektedir.
With creation of standardization in the sector,
certification processes will be supported as well
and this would help transfer know-how to the
sector over time. The experiences to be gained are
believed tobringmajor benefits. It is important that
the recommended services are implemented in
order to follow up the advancements in the highly
dynamic automotive industry and to ensure that
acceptable vehicle repair method infrastructures
are available at all times.
It is clear that the standard
approaches to be developed
as a result of the total quality
notion in every unit would
reinforce
the
atmosphere
for mutual trust and that
the results to be obtained
from that would bring great
benefits to the sector. Based
on this perspective, with the
inclusion of the services of
OSEM which is a TSB affiliate
in the claim management
process by the auto claim
units, a better competitive
environment can be developed
among the suppliers serving
the automotive industry as
well, which may eventually
result in improved beneficiary
satisfaction.
The institution with which OSEM works in close
collaboration in terms of developing these service
infrastructures is Insurance Information and
Monitoring Center (SBM). The data mining and IT
infrastructure provided on behalf OSEM is made
available as a result of collaboration with SBM.
SBM is the data hub of the insurance industry and
has a very important mission in the public sector
realm and thanks to the collaboration of SBMwith
the insurance companies, OSEM products/services
will be easier to adopt by the stakeholders in the
industry. In addition, as part of the standardization
and certification efforts, it is believed that OSEM-
SBM technological collaboration would create
a secure environment to keep sector related
information and that there would be serious
knowledge accumulation in the auto category over
time.
Opinion/Comment
· Görüş/Yorum