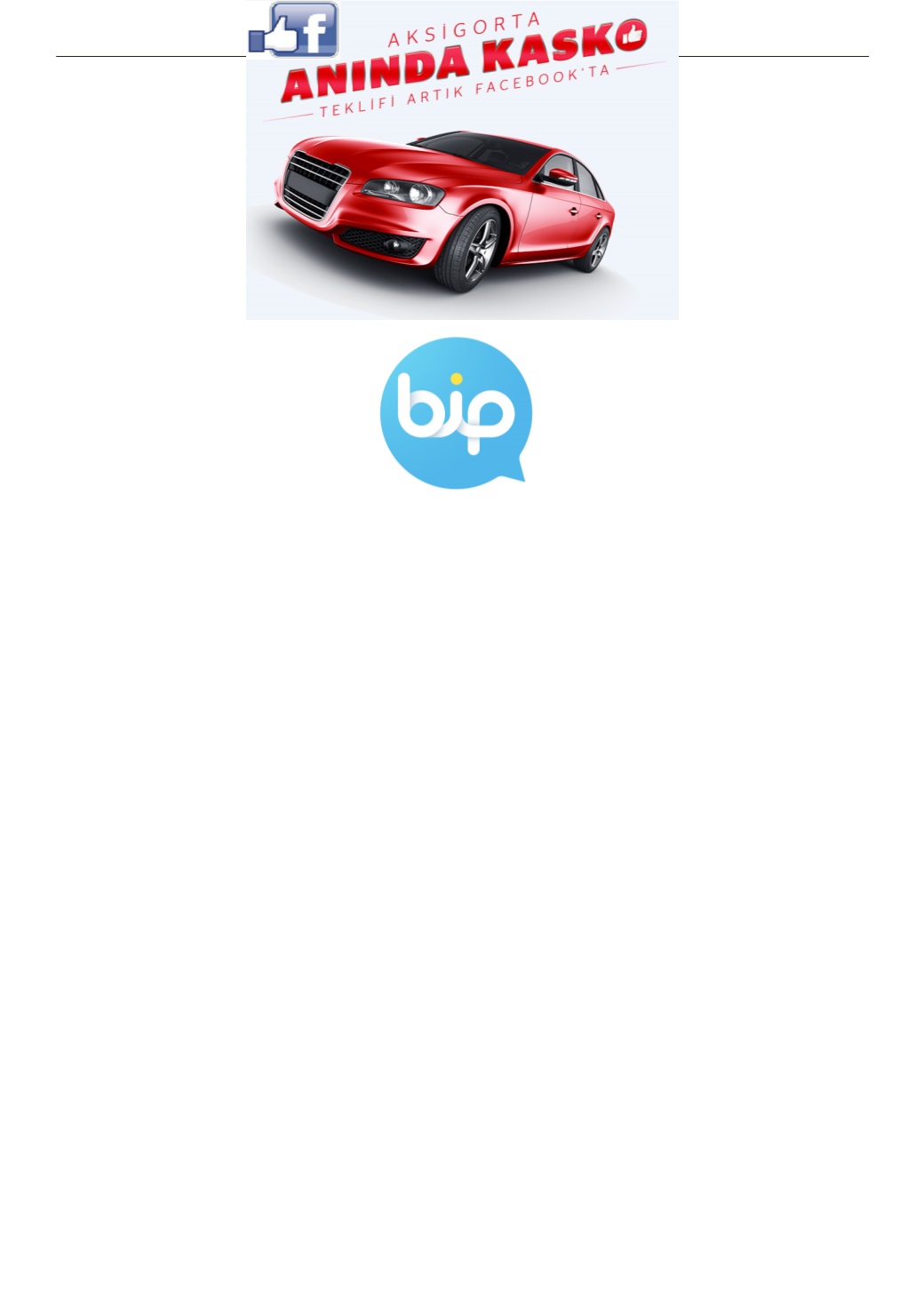 10
OPINION / COMMENT
GÖRÜŞ / YORUM
"Anında Kasko" uygu-
laması ile Aksigorta,
vizyonu ile uyumlu olarak
kolay, erişilebilir ve yalın
bir sigorta teklif deneyimi
sunuyor.
Aksigorta olarak Turkcell
ile yapmış olduğumuz
işbirliği ile popüler mesaj-
laşma uygulaması olan
Turkcell BİP üzerinden dileyen müşterimiz
TC Kimlik No ve Plaka bilgisi ileterek saniye-
ler içinde kasko teklifi alabiliyor. Teklif iletildik-
ten sonra yetkili Aksigorta acentesi müşteriye
ulaşarak satışı gerçekleştiriyor. Zamanla
bu dijital iletişim kanalını güçlendirmeyi ve
hasar sorgulamadan call center hizmetleri-
ne kadar geniş bir spektrumda hizmet ver-
meyi planlıyoruz.
CEO Cockpit App
Sigortacılık sektörü özelinde üst yönetim kademesine yöne-
lik olarak hazırlanan ve "Enterprise in mobile" anlayışıyla
geliştirdiğimiz CEO Cockpit mobil uygulaması ile Aksigorta
şirket üst yönetimi KPI'lara, üretim ve hasar bilgilerine her
an, her yerden kullanıcı dostu bir arayüz ile hızlı bir şekilde
ulaşıyor. Bu kullanışlı uygulamanın gelişmiş filtre ve drill-
down yeteneği ile kanal, ürün, bölge ve acente bazında is-
tenilen detaya anında ve kolaylıkla erişmek mümkün. Üst
yönetimin favorileri arasında şimdiden yerini alan bu uygu-
lama ile, Aksigorta olarak, bu yıl yedincisi yapılan Sabancı
Altınyaka Ödülleri'nde Dijitalleşme kategorisinde birincilik
ödülünü kazandık.
SAS Anti-Fraud Uygulaması
Suistimal ile mücadele tüm sigorta şirketlerinin önemli ve
öncelikli gündem madddelerinden birisi. Aksigorta olarak
suistimal suçlarıyla mücadele için SAS ile anlaşarak sek-
törde öncü olacak bir proje başlattık.
SAS'ın "Fraud Framework" çözümü üzerine bina edilen ve
Nisan-2016'da devreye alınan bu sistem ile kasko ve trafik
sigortalarındaki suistimal önleme oranlarının gelişmiş
analitik yöntemler uygulanarak arttırılması ve bu sayede
şirketin karlılığına önemli katkı sağlanması hedefleniyor.
Buna ek olarak uygulanacak çözüm Türkiye sigortacılık
sektöründe uygulanan geleneksel anti-fraud yöntemlerine
göre birçok avantaj sunuyor, bunlar organize suistimal
vakalarının yakalanması için sosyal network analizlerinin
kullanılması, mevcut hasar yönetim sistemi ile yapılacak
online entegrasyon ve başta Sigorta Bilgi Merkezi'nin
yayımladığı suistimal sonuçları olmak üzere çok farklı
kaynaklardan gelen bilgileri modellemelerde kullanması
olarak sıralanabilir.
With the comprehensive
coverage
application,
Aksigorta offers an easy,
accessible and simple in-
surance quote inquiry ex-
perience that is inline with
the company's vision.
As a result of the new
partnership between Ak-
sigorta and Turkcell, our
customers can now get
comprehensive coverage quotes instantly just
by sending a text message with their TR ID
numbers and license plate numbers, to Turk-
cell BIP, the popular messaging application of
Turkcell. After the quote is sent, an authorized
Aksigorta agent contacts the customer to finalize
the sale. We are planning to make greater use
of this digital communication over time and
provide a broad variety of services ranging from
claim inquiries to call center services.
CEO Cockpit App
With the CEO Cockpit application that we developed
specifically with the senior level executives in the insurance
industry in mind which is based on the "enterprise in notion"
concept, Aksigorta senior management team can now access
the KPIs, policy generation and claim data from everywhere
via a user-friendly interface. Thanks to the advanced
filtering and drill-down features of this application, it is
possible to access any detail in breakdowns of channel,
product, region and broker instantly and easily. With this
application, which has already become one of the favorites of
the senior executives, as Aksigorta, we became the champion
in the Digitalization category at Sabancı Altın Yaka Awards
organized for the seventh time this year.
SAS Anti-Fraud Application
Tackling and preventing insurance fraud is one of the most
important and primary agenda items of all insurance com-
panies. As Aksigorta we've initiated a pioneering project in
the industry by entering into cooperation with SAS with re-
gard to preventing and tackling insurance fraud.
Built on SAS's "Fraud Framework" solution commissioned in
April 2016, this system will help us increase fraud prevention
rates in the comprehensive coverage and liability insurance
categories using advanced analytical methods and make
significant contributions to improve overall profitability
levels. In addition, this new solution offers many advantages
compared to other existing fraud prevention tools currently
used in the insurance industry. these include the use of social
network analysis tools to detect organized fraud cases, online
integration with the existing claim management system and
utilization of data mainly from fraud figures published by
Insurance Information and Monitoring Center and other
sources in analytical models developed for this purpose.