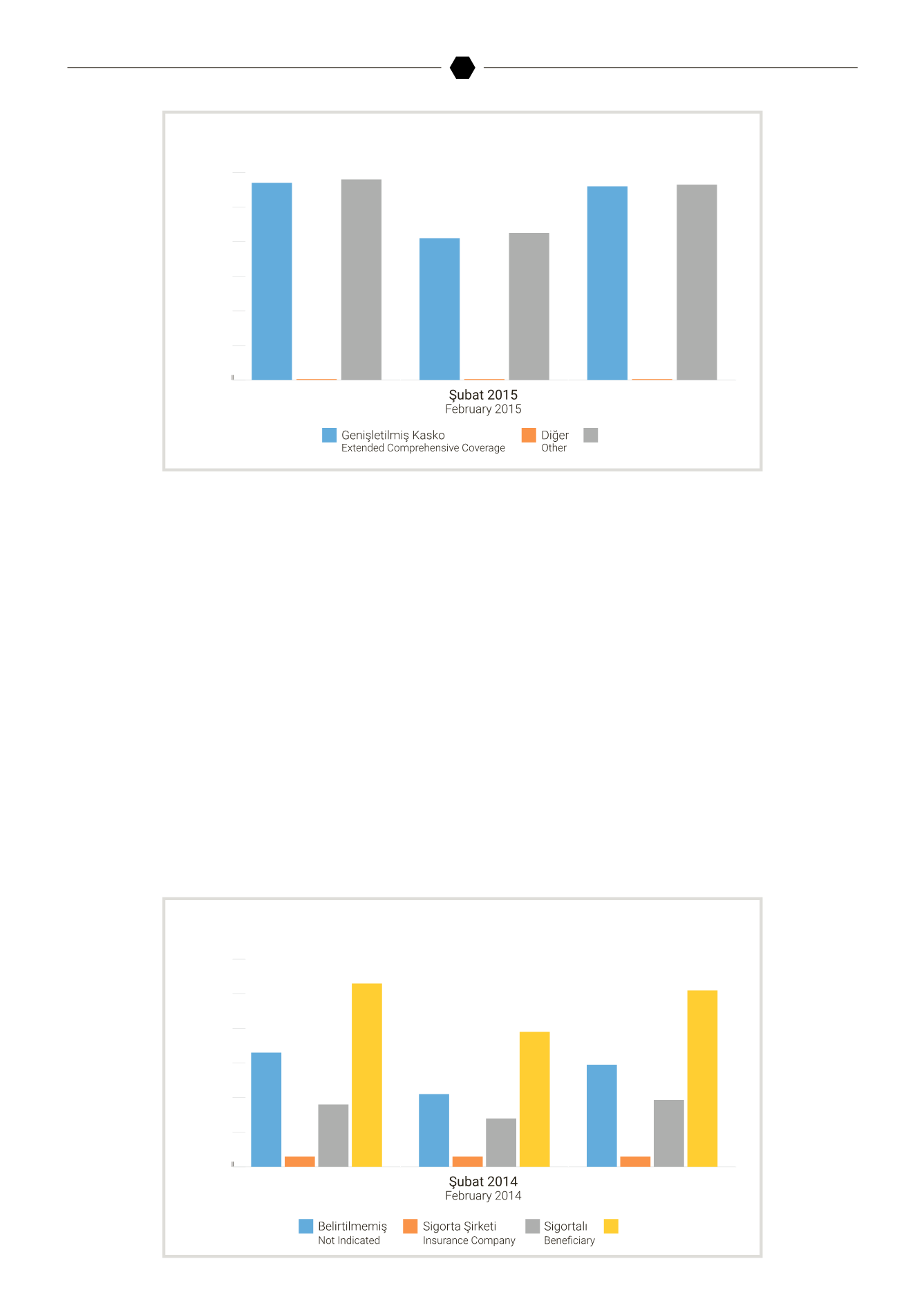 72
RAPOR
REPORT
İki yılın ilk çeyreklerine kümülatif olarak bakıldığında 2015
yılında daha fazla kasko sigortası üretildiği görülmek-
tedir. 2014 yılı ilk çeyreğinde 1.420.716 adet, 2015 yılı ilk
çeyreğinde ise 1.556.455 adet poliçe düzenmiş ve %9.5'lik
bir artış sağlanmıştır. Genişletilmiş kasko ürününe olan
talep artmış ve toplam üretimdeki payı %97'den %99'a
çıkmıştır.
Değişen kasko genel şartlarına göre, onarım yapılacak ol-
ması halinde poliçede, onarımın nerede (şirketin veya sigor-
talının belirlediği servislerde) yapılacağı hususu açıkça yer
almaktadır. Ayrıca hasarın tazmininde orijinal parça veya
eşdeğer parça seçeneklerinden hangisinin kullanılacağı da
poliçede belirtilmektedir. Bu yönde bir belirleme olmazsa
sigortalının tercih ettiği servis ve parça esas alınmaktadır.
Bu kapsamda, 2014 ve 2015 yıllarında düzenlenen
poliçelerde servis seçim tipi ve parça tercihleri aşağıdaki
gibi oluşmuştur.
Looking at the total of the first quarters of the two years, it is
seen that more comprehensive coverage policies were generat-
ed in 2015. During the first quarter of 2014, a total of 1.420.716
policies were generated while during the first quarter of 2015, a
total of 1.556.455 policies were arranged, representing a 9.5%
increase. Demand for extended comprehensive coverage has in-
creased and its share in total policies generated increased from
97% to 99%.
As per the new comprehensive coverage general provisions, in
case a vehicle has to be repaired, the policy should clearly indi-
cate where the repair will be made (it should be service compa-
nies selected by the company or the beneficiary). Also, the policy
should indicate weather or not an original part or an equivalent
part will be used for the repair. If there's no clear indication as to
the above, then the service company and part preferred by the
beneficiary should be taken as basis.
In this regard, the service companies and parts preferred in the
policies arranged in 2014 and 2015 were as follows.
0
100000
200000
300000
400000
500000
600000
Ürün Tipi
Product Type
Ocak 2015
January 2015
Mart 2015
March 2015
Toplam
Total
0
100000
200000
300000
400000
500000
600000
Servis Seçim Tipi
Service Company Selection
Ocak 2014
January 2014
Mart 2014
March 2014
Toplam
Total