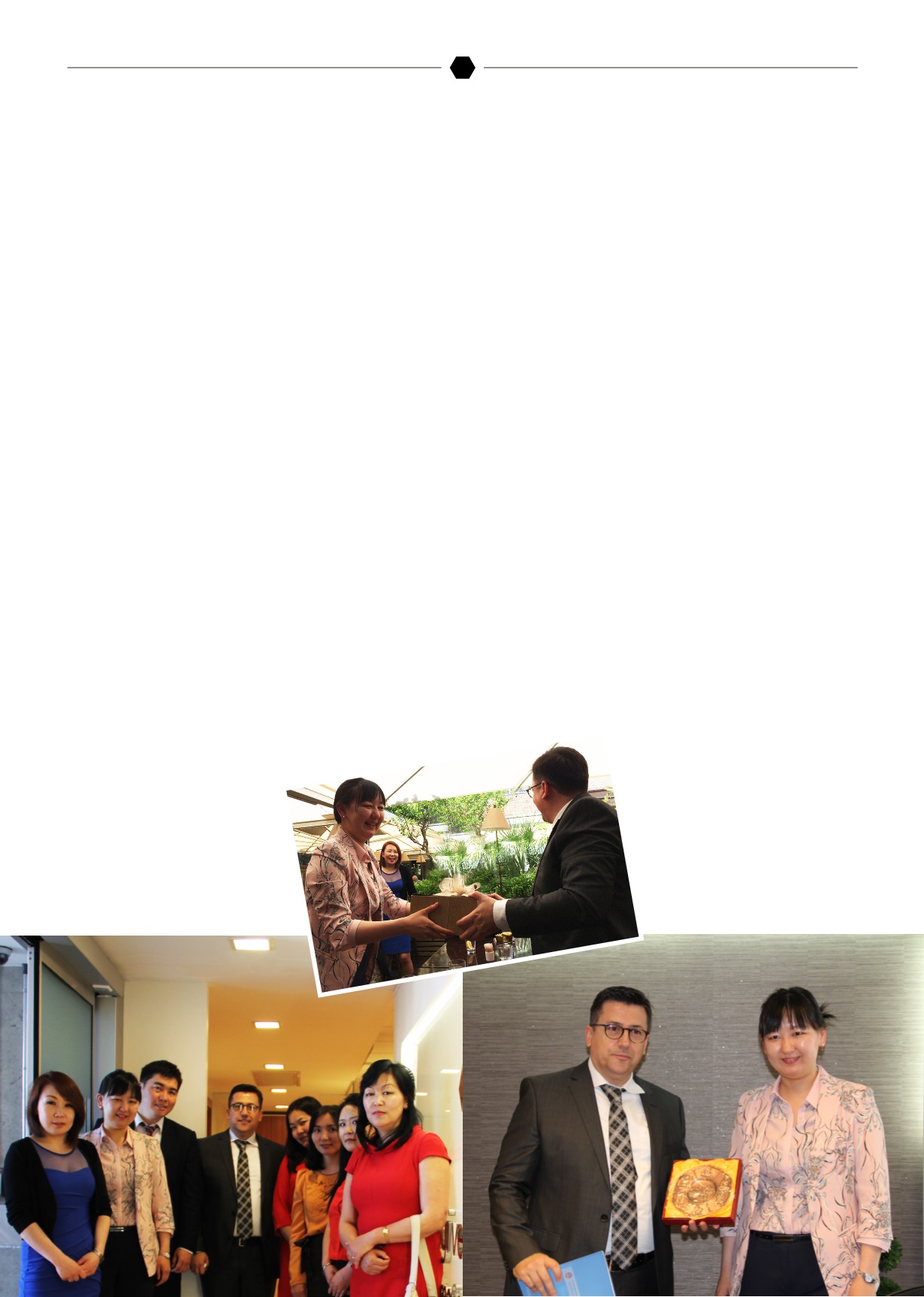 30
Moğolistan Finansal Düzenleme Komisyonu (FRC) Sigorta
Denetleme Departmanı, 19 Haziran 2014 tarihinde Sigorta
Bilgi ve Gözetim Merkezi (SBM)'ne anlamlı bir ziyaret
gerçekleştirdi. Türkiye'de sigorta sektörünü incelemek
ve tanımak amacıyla bulunan FRC Sigorta Denetleme
Departmanı, SBM ziyaretine sigorta müfettişlerinden
oluşan 7 kişilik bir ekiple katıldı.
SBM Merkez Müdürü Aydın Satıcı Moğol ziyaretçilere
SBM'nin faaliyet alanı ve çalışmalarını anlatarak vizyon
ve misyonunu içeren bir sunum yaptı. SBM ofisini gezen
ve çalışmalarını yerinde gören Moğolistan ekibi, SBM'nin
sigorta sektörü adına gerçekleştirdiği projeler hakkında da
takdirlerini belirtti.
FRC, Moğolistan devletinin finansal düzenleyici kuruluşu
olarak hizmet veriyor. T.C. Hazine Müsteşarlığı'na benzer
bir yapıyla faaliyetlerini sürdüren FRC; mali piyasada istikrar
sağlamak, finansal kurumları düzenlemek, ilgili Mevzuatı
uygulamak ve izlemek gibi görevlere sahip.
Insurance Inspection Department of Mongolia Financial
Regulation Commission (FRC) made a visit to Insurance
Information and Monitoring Center (SBM) on 19 June 2014.
Visiting Turkey with the purpose of analyzing the Turkish
insurance industry closely, FRC Insurance Inspection
Department, visited SBM with a team of 7 insurance inspectors.
Briefing the Mongolian visitors about SBM's area of expertise
and operations, SBM Managing Director Aydin Satici, also made
a presentation covering SBM's vision and mission. Mongolian
Team, which visited SBM's head office, expressed their
appreciation of the projects that SBM carried out on behalf of
the sector.
FRC serves as the financial regulation authority in Mongolia.
Operating based on a organization structure similar to that
of the Under secretariat of the Treasury of Turkish Republic,
FRC is responsible from ensuring stability in financial markets,
regulating finance companies, enforcing the relevant legislation
and monitoring compliance.
SBM, Moğolİstan Sİgorta Denetleme
Departmanı'nı Ağırladı
SBM HOSTED INSURANCE SUPERVISION DEPARTMENT OF MONGOLIA
SBM'DEN
FROM SBM