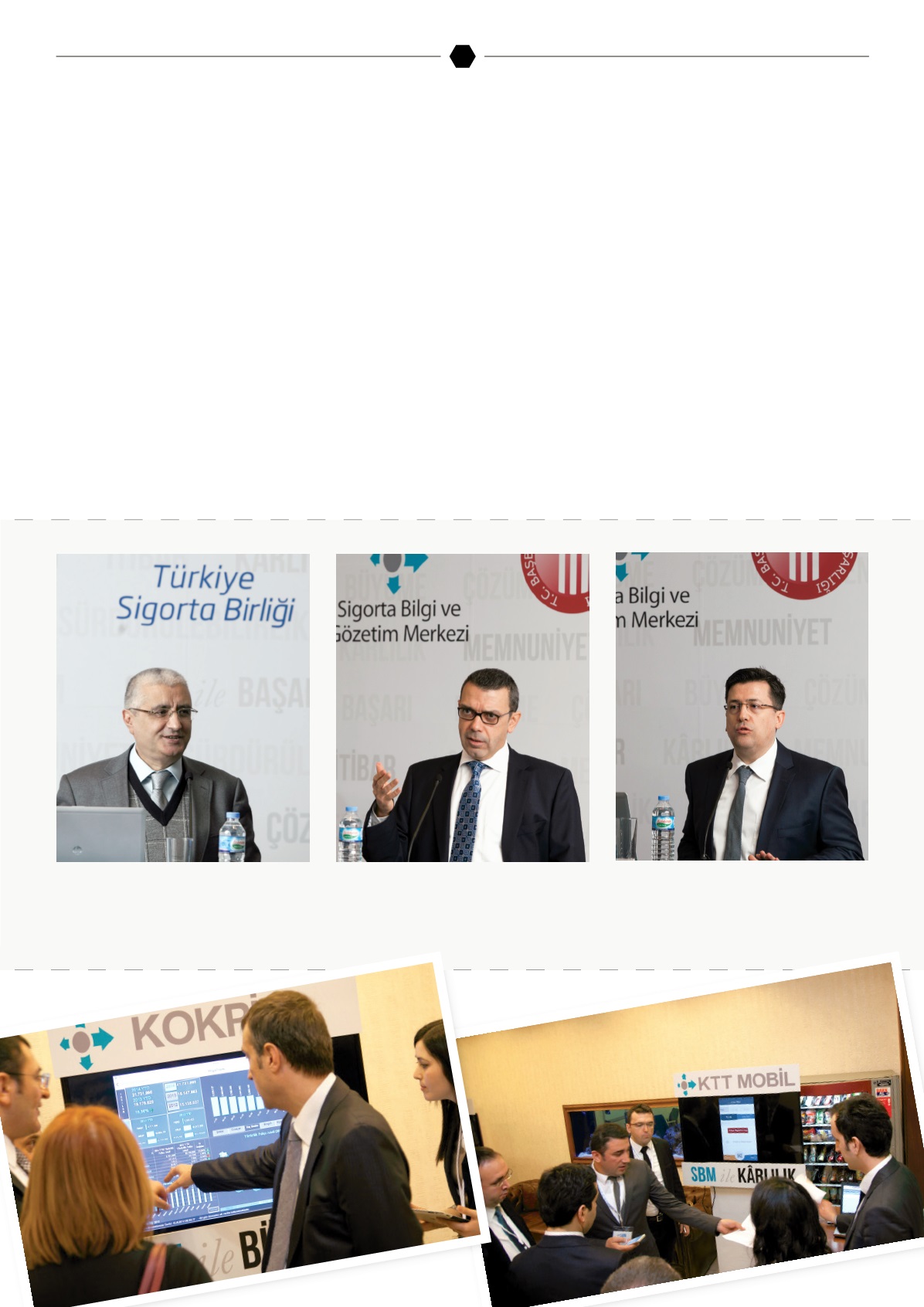 Ahmet Genç
Sigortacılık Genel Müdürü / Hazine Müsteşarlığı
General Manager / Insurance General Directorate
of Undersecretariat of the Treasury
İ. Ragıp YERGİN
Yönetim Komitesi Başkanı / SBM
Executive Committee Chairman / Insurance
Information and Monitoring Center
Aydın SATICI
Merkez Müdürü / SBM
Managing Director / Insurance Information and
Monitoring Center
27
kullanıma açılacak uygulama;
tutanağın daha hızlı ve etkin
tutulması,
ekrandan yapılan yönlendirmelerle yaşanan
trafik sıkışıklığının önlenmesi, kaza istatistiklerinin
tutulabilmesi
gibi birçok avantajı da beraberinde getirecek.
SBM Portal
Sektöre yeni bir pencere açacak olan başka bir proje de
yeni
"SBM Web Portal"
uygulaması. SBM web portalde
dikkatleri en çok çeken özellik ise sektörün karşılıklı işbirliği
ve iletişimini artıracak olan
forum ve blog uygulamaları.
www.sbm.org.tr
adresinde
n ulaşılan portalde tüm yetkili
kullanıcılar kullanıcı adı ve şifreleri ile forum ve blog say-
falarına ulaşarak etkin iletişim ve bilgilendirme platformun-
da sektörün nabzını tutabilecekler.
the screen, and keeping accident statistics.
SBM Portal
Another project that will open a new window for the industry is the
new "SBM Web Portal" application. The most prominent feature
of SBM web portal is the forum and blog applications that will
facilitate mutual communication and cooperation in the sector.
The portal will be accessible on
www.sbm.org.tr
and all authorized
users will have access to forum and blog pages by logging in
with their usernames and passwords and will get the latest
information about the sector via these effective communication
and information platforms.
GÜNCEL
CURRENT