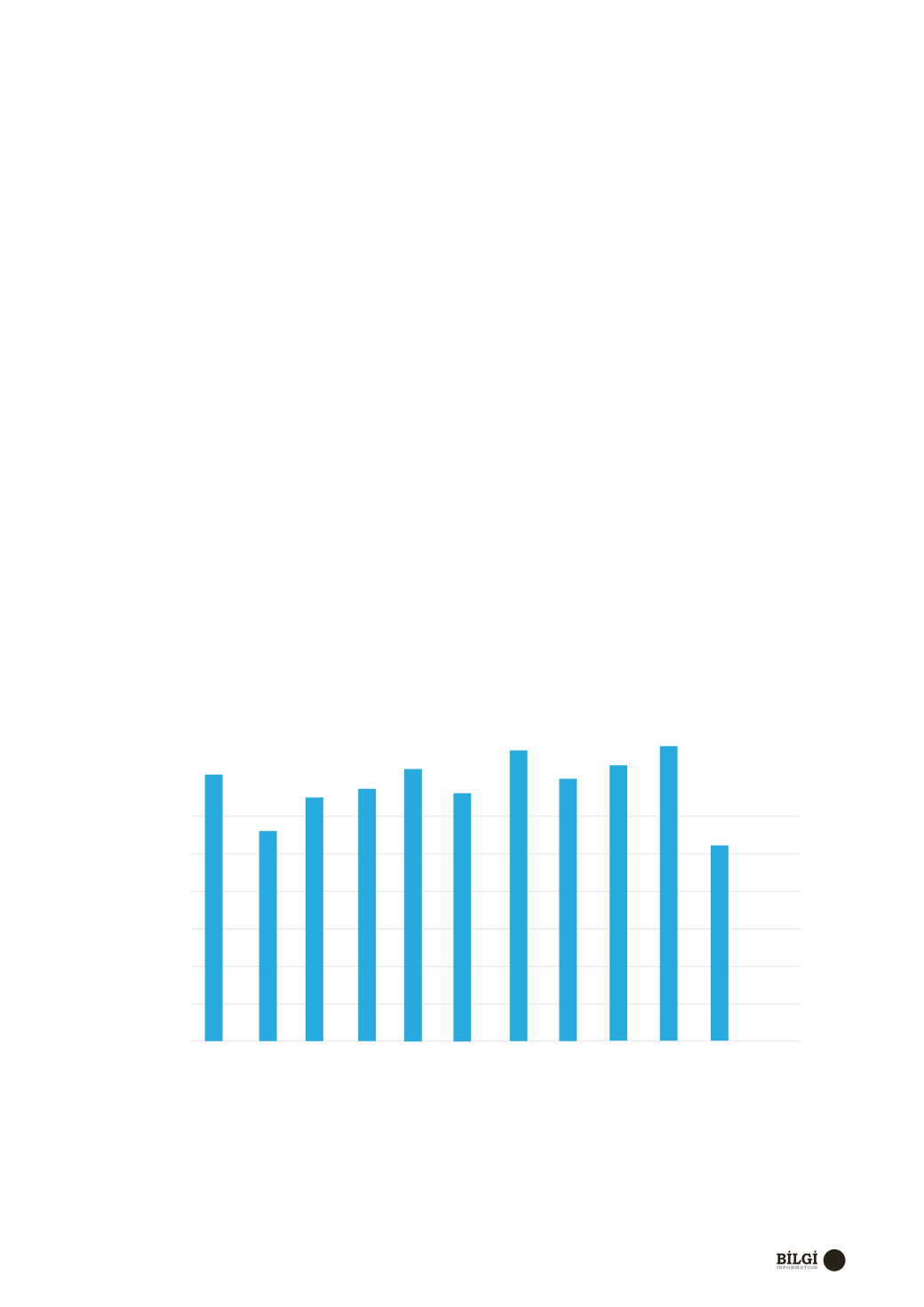 49
SBM'ye iletilen kaza tespit tutanaklarında elde
ettiğimiz istatistiklere göre, 2017 yılında en çok
31-35 yaş aralığındaki kişiler maddi hasarlı kazalara
karışmaktadır. 2017 yılında gerçekleşen 720.631
kazanın 255.503 adedi İstanbul'da gerçekleşerek en
çok kazanın gerçekleştiği il, önceki yıllarda olduğu
gibi yine İstanbul oldu.
Ay bazında sadece maddi hasarlı 72.765 kaza ile
Ekim ayı 2017 yılında en çok kaza meydana gelen ay
olmuştur.
According to the statistics from the accident
reports received by SBM, mostly the 31-35 age
interval has involved in the accidents with material
damage through the year 2017. A total of 720.631
accidents have been faced in 2017 and 255.503 of
such total figure has been experienced in İstanbul.
Thus, İstanbul happened to be the province with
highest figure of accidents likewise in the previous
years.
The month October has included the highest
number of accidents with material damage in 2017
with 72.865 accidents.
KAZA TESPİT TUTANAĞI (KTT) İSTATİSTİKLERİ
ACCIDENT REPORT (KTT) STATISTICS
2017
0
10.000
20.000
30.000
40.000
50.000
60.000
67.907
OCAK
January
ŞUBAT
February
MART
March
NİSAN
April
MAYIS
May
HAZİRAN
June
TEMMUZ
July
AĞUSTOS
August
EYLÜL
September
EKİM
October
KASIM
November
57.020
64.404 65.415
68.356
64.786
71.344
66.022
68.609
72.765
53.830
Report
· Rapor