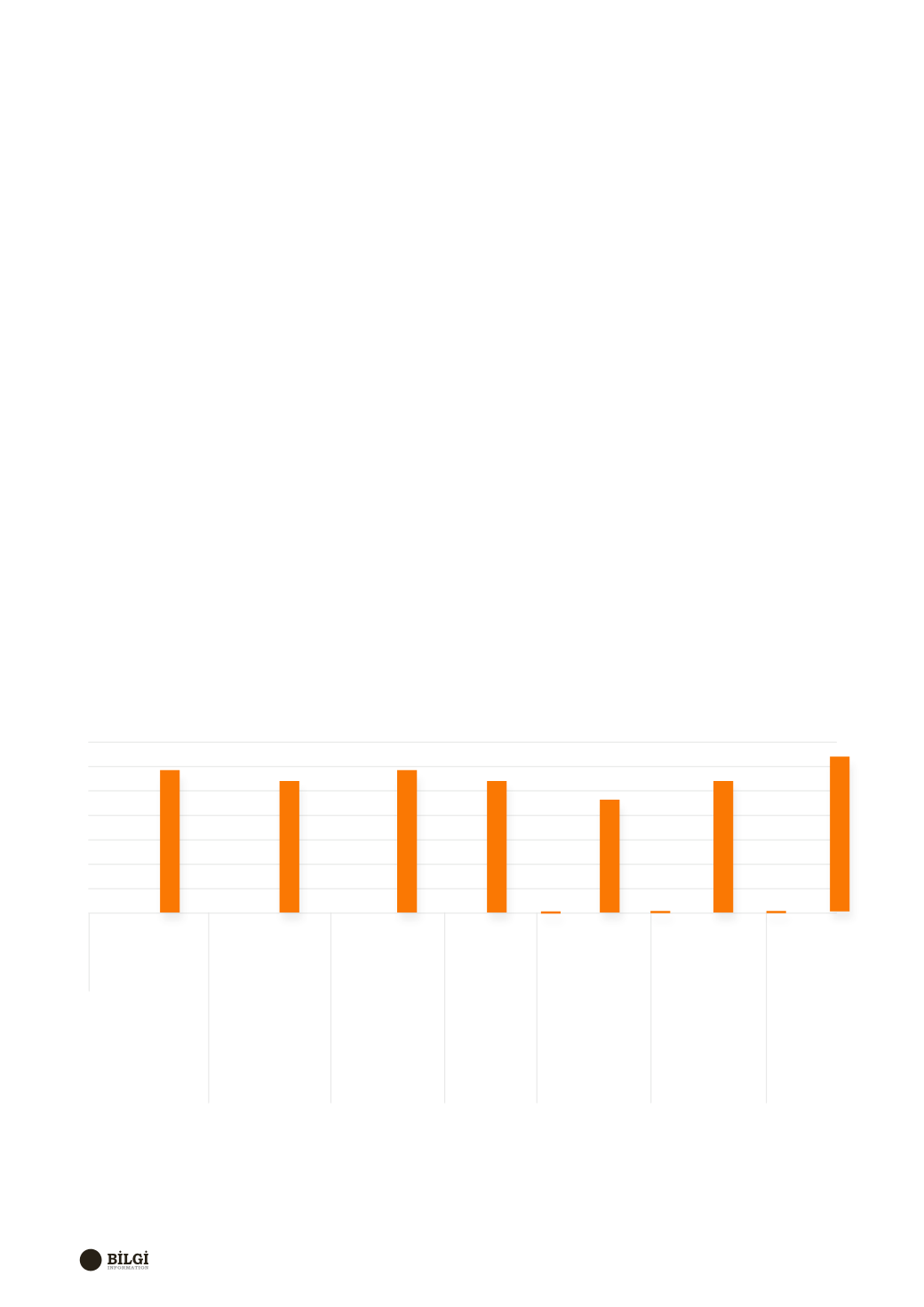 46
KASKO SİGORTASI
MOTOR OWN DAMAGE
01.04.2013 tarihinde yürürlüğe giren yeni Kasko
Sigortası Genel Şartları ile birlikte ürünler, şartlar
ve teminatlar da değişmiştir. Ana teminatlar
çerçevesinde dar kasko ve kasko ürünü yer alırken,
genişletilmiş kasko ve tam kasko ek teminatları da
yer almaktadır.
2017 yılının Mayıs ile Kasım ayları arasındaki
verileri incelediğimizde, 2016 yılında olduğu
gibi, Genişletilmiş Kasko ürününün çoğunluk
tarafından tercih edildiğini görüyoruz. Dar Kasko,
Kasko ve Tam Kasko alanlarının oldukça az olduğu
gözlemlenmektedir.
Together with the newMotor Own Damage
Insurance General Conditions entered in force on
the date 01.04.2013; the products, conditions and
the coverage have changed. Under the frame of
the main coverage items, the narrowmotor own
damage and motor own damage products may be
seen to exist whereas the extended motor own
damage and full motor own damage coverage
titles are also effected.
When we examine the data between the May
and November of the year 2017, we may see that,
likewise in the year 2016, the extended motor
own damage product has been preferred by the
majority. The buyers of the narrowmotor own
damage, motor own damage and full motor own
damage products are seen to be quite lesser.
ÜRÜN TİPİ
PRODUCT TYPE
2017
/
05
0
100.000
200.000
300.000
400.000
600.000
500.000
700.000
GENİŞLETİLMİŞ KASKO
EXTENDED COMPREHENSIVE COVERAGE
DAR KASKO
LIMITED COMPREHENSIVE COVERAGE
KASKO
COMPREHENSIVE COVERAGE
TAM KASKO
FULL COVERAGE
GENİŞLETİLMİŞ KASKO
EXTENDED COMPREHENSIVE COVERAGE
DAR KASKO
LIMITED COMPREHENSIVE COVERAGE
KASKO
COMPREHENSIVE COVERAGE
TAM KASKO
FULL COVERAGE
GENİŞLETİLMİŞ KASKO
EXTENDED COMPREHENSIVE COVERAGE
DAR KASKO
LIMITED COMPREHENSIVE COVERAGE
KASKO
COMPREHENSIVE COVERAGE
TAM KASKO
FULL COVERAGE
GENİŞLETİLMİŞ KASKO
EXTENDED COMPREHENSIVE COVERAGE
DAR KASKO
LIMITED COMPREHENSIVE COVERAGE
KASKO
COMPREHENSIVE COVERAGE
TAM KASKO
FULL COVERAGE
GENİŞLETİLMİŞ KASKO
EXTENDED COMPREHENSIVE COVERAGE
DAR KASKO
LIMITED COMPREHENSIVE COVERAGE
KASKO
COMPREHENSIVE COVERAGE
TAM KASKO
FULL COVERAGE
GENİŞLETİLMİŞ KASKO
EXTENDED COMPREHENSIVE COVERAGE
DAR KASKO
LIMITED COMPREHENSIVE COVERAGE
KASKO
COMPREHENSIVE COVERAGE
TAM KASKO
FULL COVERAGE
GENİŞLETİLMİŞ KASKO
EXTENDED COMPREHENSIVE COVERAGE
DAR KASKO
LIMITED COMPREHENSIVE COVERAGE
TAM KASKO
FULL COVERAGE
Rapor ·
Report
2017
/
06
2017
/
07
2017
/
08
2017
/
09
2017
/
10
2017
/
11