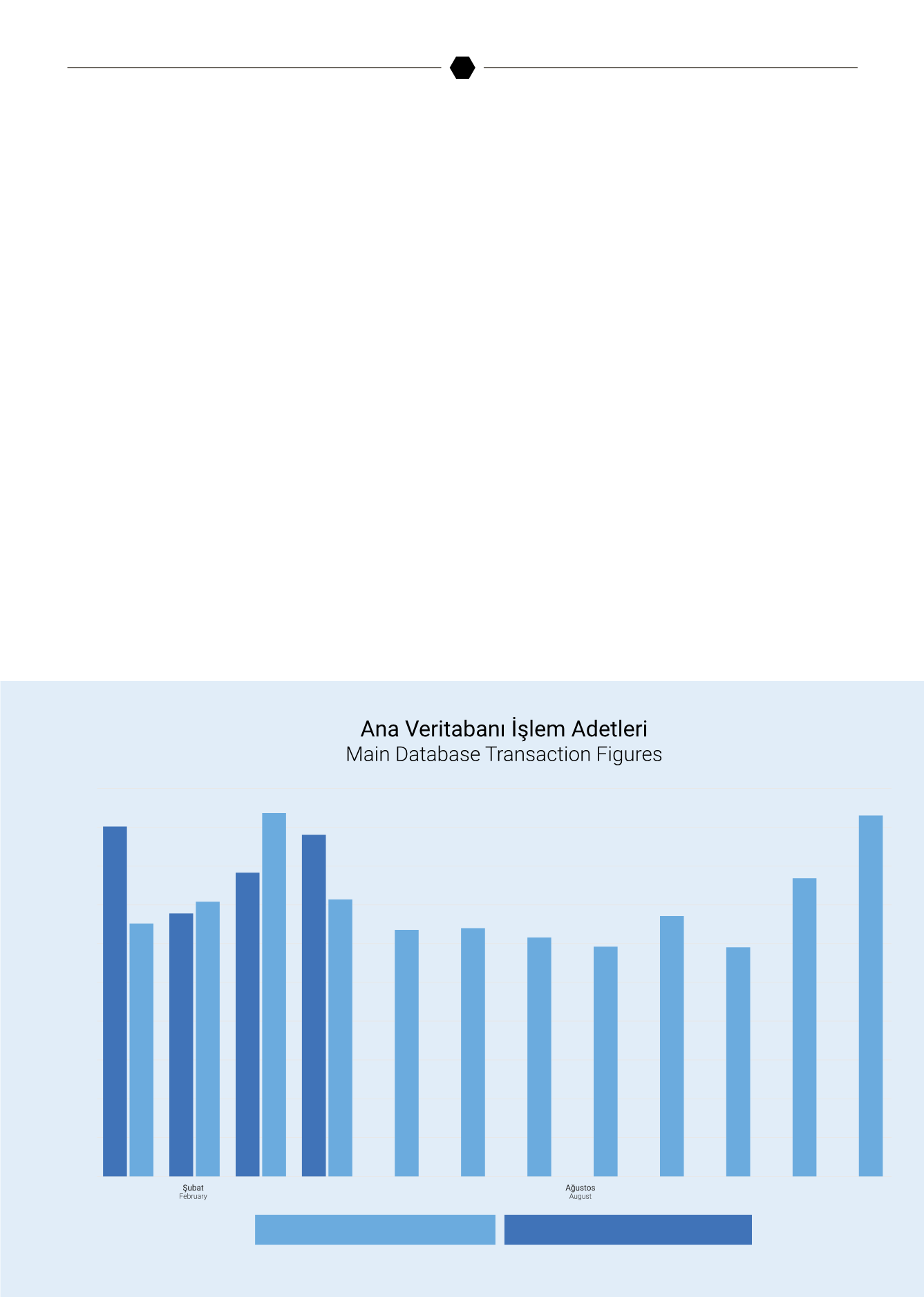 81
SBM Ana Verİ tabanı İşlem Adetlerİ
SBM Main Database Transaction Figures
RAPOR
REPORT
Merkezimiz ana veri tabanlarında, sigorta şirketi, acenteler,
eksperler, vatandaşlar gibi kullanıcılar tarafından yapılan
veri tabanı işlem adeti 2014 yılı için 8.5 milyar olarak
gerçeklemiştir. İşlemlerin %97'si sigorta şirketleri üzerinden
gerçekleşmektedir.
2014 yılında Kasko online projesindeki yoğun aktarım-
lardan kaynaklı tarihi rekor kırılarak 936 milyon işlem sis-
temler üzerinde gerçeklemiştir.
2015 yılı ilk çeyrek verilerine göre yapılan tahminler
doğrultusunda 10 milyar veri tabanı işlemine ulaşılacağı
öngörülmektedir
The total number of transactions carried out on the central
database of our center, by users like insurance companies,
agents, experts and citizens was 8.5 billion in 2014. 97%
of the transactions were carried out via the insurance
companies.
In 2014, a historic record was broken as a result of high
number of data transferred with the Comprehensive
Coverage online Project and a total of 936 million transac-
tions were carried out via the system.
Forecasts for 2015 based on the first quarter of 2015 show
that the total number of transactions on the database
would reach 10 billion in 2015.
1.000.000.000
900.000.000
800.000.000
700.000.000
600.000.000
500.000.000
400.000.000
300.000.000
200.000.000
100.000.000
0
Ocak
January
Mart
March
Nisan
April
Mayıs
May
Haziran
June
Temmuz
July
Eylül
September
Ekim
October
Kasım
November
Aralık
December
901.440.094
680.109.389
783.799.505
880.344.087
654.651.448
710.194.449
935.731.325
715.688.288
638.589.421
642.941.179
619.183.336
595.769.702
673.566.168
594.113.235
770.133.350
929.693.150
2014
8.5 milyar
/ billion
2015
(öngörü
/ forecast
)
9.7 milyar
/ billion