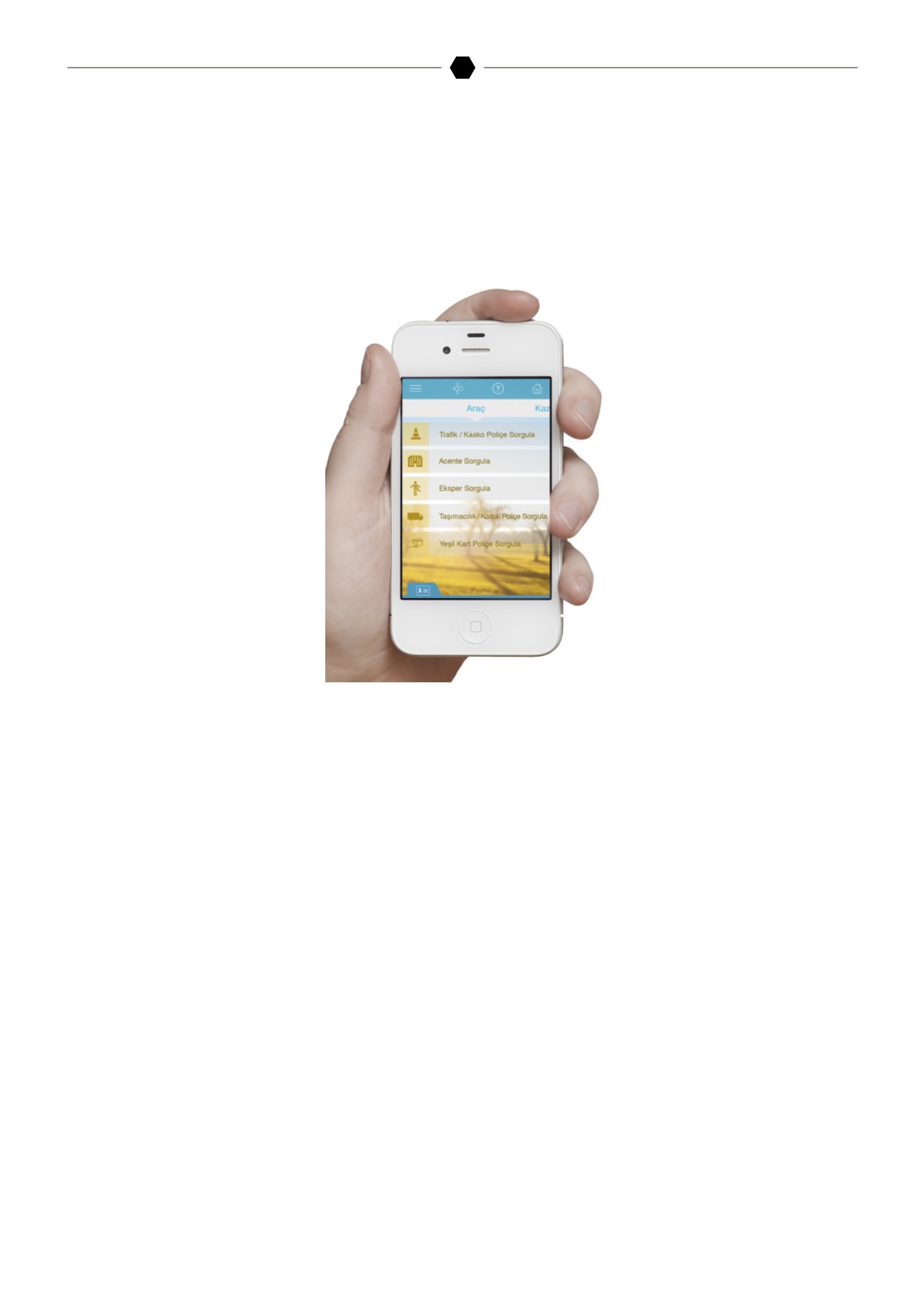 20
SBM'DEN
FROM SBM
Akıllı Telefonlardan Poliçe
Sorgulamak Artık Mümkün!
Sigorta Bilgi ve Gözetim Merkezi
(SBM) 2014 yıldız projelerinden biri
olan "Mobil Sigorta Sorgu" uygu-
laması IOS ve Android işletim sis-
temine sahip tüm akıllı telefonlarda
kullanıma açıldı.
SBMbu uygulama ileweb sitesi üzerin-
den sunduğu online işlem hizmetini bir
adım daha ileriye götürerek akıllı tele-
fonlara taşıyor. "Mobil Sigorta Sorgu"
ile sigorta poliçelerinin akıllı telefonlar-
da sorgulanabilmesi sağlandı.
Uygulama ayrıca, kolay ve hızlı bir
şekilde poliçe, acente, eksper, kaza tutanağı sorgulama ve
eksper atama gibi işlemleri de yapmaya olanak sağlıyor.
Uygulama ile Hangi Poliçe Sorgulamaları
Yapılabiliyor?
"Mobil Sigorta Sorgu" uygulaması ile Trafik ve Kasko Poliçe-
leri, Hayat sigortaları, Seyahat ve Sağlık Poliçeleri, Yeşil
Kart, Taşımacılık ve Koltuk Poliçeleri sorgulanarak poliçe
bilgileri kontrol edilebiliyor ve profil, poliçe bilgileri girilerek
birçok sigorta sorgu işlemi akıllı telefonlardan yapılabilmesine
imkan sağlıyor.
Eksperinizi Atayabilir ve Eksper Raporunuzu
görüntüleyebilirsiniz
Akıllı telefonunuzdan eksper atamak da mümkün. Uygu-
lama sayesinde poliçe ve hasar bilgileri girilerek Eksper
havuzundan eksper seçilebilir ya da sistem tarafından rastgele
seçme yöntemiyle eksper atama işlemi gerçekleştirebilirsiniz.
Aracınıza eksper atandığında, eksperin araç onarımı ile ilgili
belirlediği tüm detaylara ulaşmak çok kolay. Plaka, T.C. kim-
lik numarası ve hasar tarihi girilerek eksper raporu bilgilerine
kolayca ulaşılabilirsiniz.
It's now possible to access your
policy via your smart phone!
"Mobile Policy Inquiry" application, one of
the star projects of Insurance information
and Monitoring Center (SBM) in 2014, is
now ready for use in all IOS and Android
smartphones.
With this new application, SBM took
one step further, the online services it
provides on its official website and brings
this service to smartphones. With the
"Mobile Policy Inquiry" application, it's
now possible to access insurance policies
from smart phones.
With the new application, it's also possible
to do conveniently and rapidly, other tasks
such as policy, agency, expert, accident report inquiries and
expert selection.
Which Insurance Policy Inquiries can be made via
the application?
With the "Mobile Policy Inquiry" application, the users can now
retrieve their Liability and Comprehensive Coverage Policies,
Travel and Health Insurance Policies, Green Card, Transportation
and Seat Policies and verify their policy information online. In
addition, with the application, the users can also enter their
profile information and policy information to make numerous
transactions regarding their insurance policies.
You can Appoint your Expert and Access your
Expert Report
It's now possible to appoint an expert via smartphones. With the
new application, the users can enter policy and claim information
to select experts from the expert pool or allow the system to
randomly appoint an expert for them.
Once the expert is appointed for the case, users can easily
access all details determined by the expert about a vehicle's
repair process. You can now easily access expert reports just by
entering license plate information, ID number and damage date.
Mobİl Sİgorta Sorgu İle
Polİçelerİnİzİ Sorgulayın!
ACCESS YOUR POLICY WITH MOBILE POLICY INQUIRY!