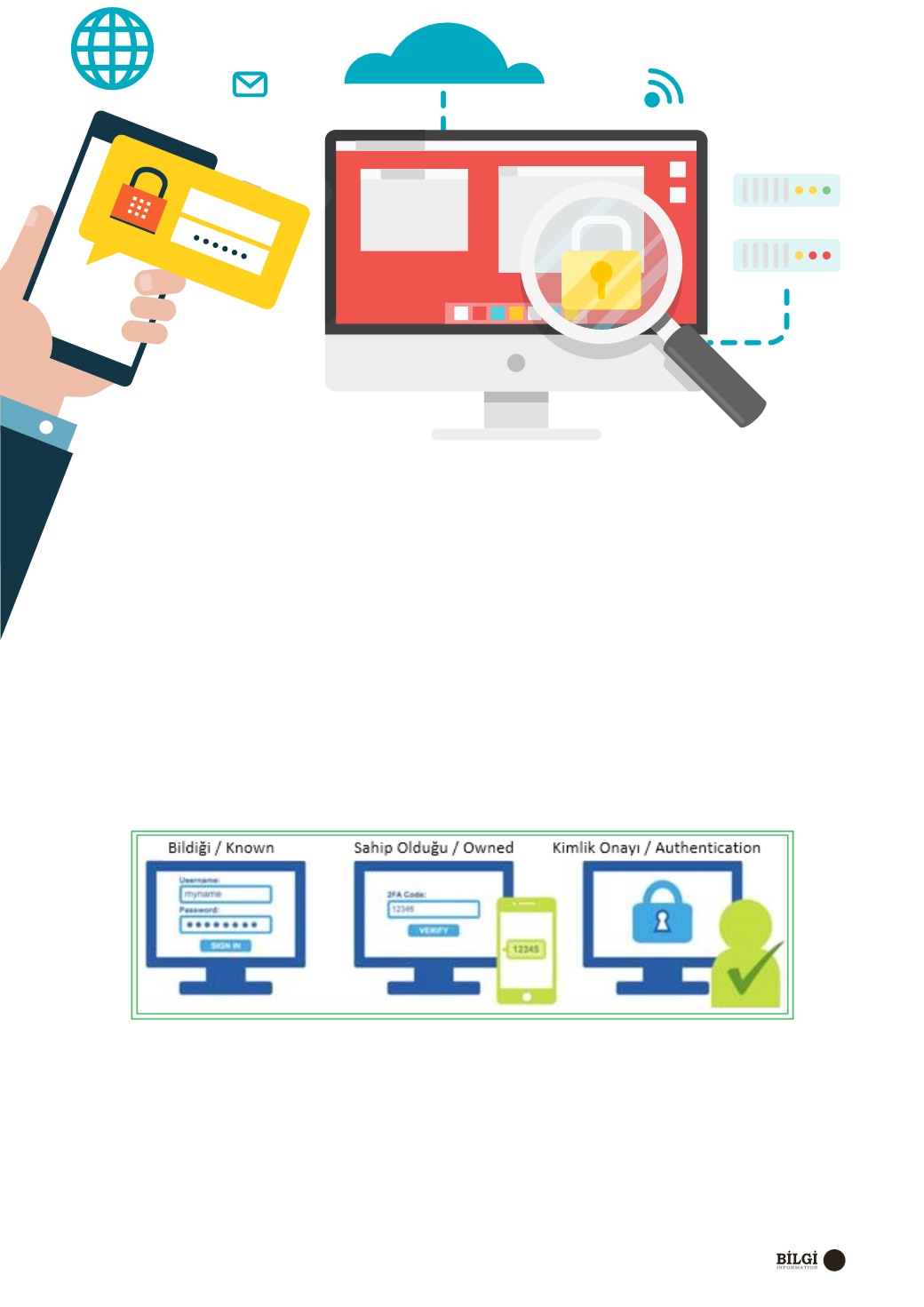 13
Bu kod kullanıcın mobil cihazına SMS veya başka
özel bir uygulamadan e-posta olarak iletilebilir
veya mobil şifrematik gibi bir uygulama ile
oluşturulabilir. Sistem, kullanıcının mobil cihazına
gönderilen doğrulama kodunun istenilen zaman
aralığında girilmesini bekler, girilmediğinde tekrar
yeni farklı bir doğrulama kodu girişi bekler.
Mobil cihazlara yetkilendirme gerektiğinde
mutlaka cihazın kullanıcının yanında olması
şarttır. Mobil cihazın şarjının bitmesi, internet
bağlantısının olmaması veya hattın çekmemesi
gibi sebeplerle kullanılamaz olduğu durumlarda
yetkilendirme gerçekleştirilemeyebilir. Bu tür
durumlarda kullanıcının sorun yaşamaması için
mobil şifrematik uygulamalarının çevrimdışı
çalışmayı destekliyor olması önemlidir.
From SBM
· SBM'den
the user with SMS or as e-mail from another
private application; whereas, mobile password
generator etc. another application can be
preferred. The system then requires the entry
of the authentication code within a certain
time interval. Otherwise, the entry of new and
different authentication code shall be necessary.
When authorization to the mobile devices is
the case, then the device must be by the user.
If the battery of the device exhausts, internet
connection not exists or the GSM line is out of
coverage area etc. grounds cause the device out
of operation, the authorization will be suspended.
It is important for such cases, to avoid any
problems, the mobile password generator
applications assisting the off-line operation.
Her ne kadar kullanıcının cep telefon numarasını
kendi kendine tanımlama imkanı olsa da mobil
cihazını etkinleştirebilmesi için sistem/kimlik
yöneticisi ile telefon numarasını paylaşma
zorunluluğu vardır. Ayrıca mobil cihazların
çalınması durumunda mobil cihaz üzerinde ek bir
PIN koruması yoksa veya şifrematik
Even though the user will have the probability to
define the mobile phone number on its own, but
it (the user) must share such number with the
system/identity manager to activate the mobile
device. Moreover, if the mobile devices are out of
operation and no additional PIN protection exists
for the mobile device or if a simple estimable
password is chosen for entering in the password