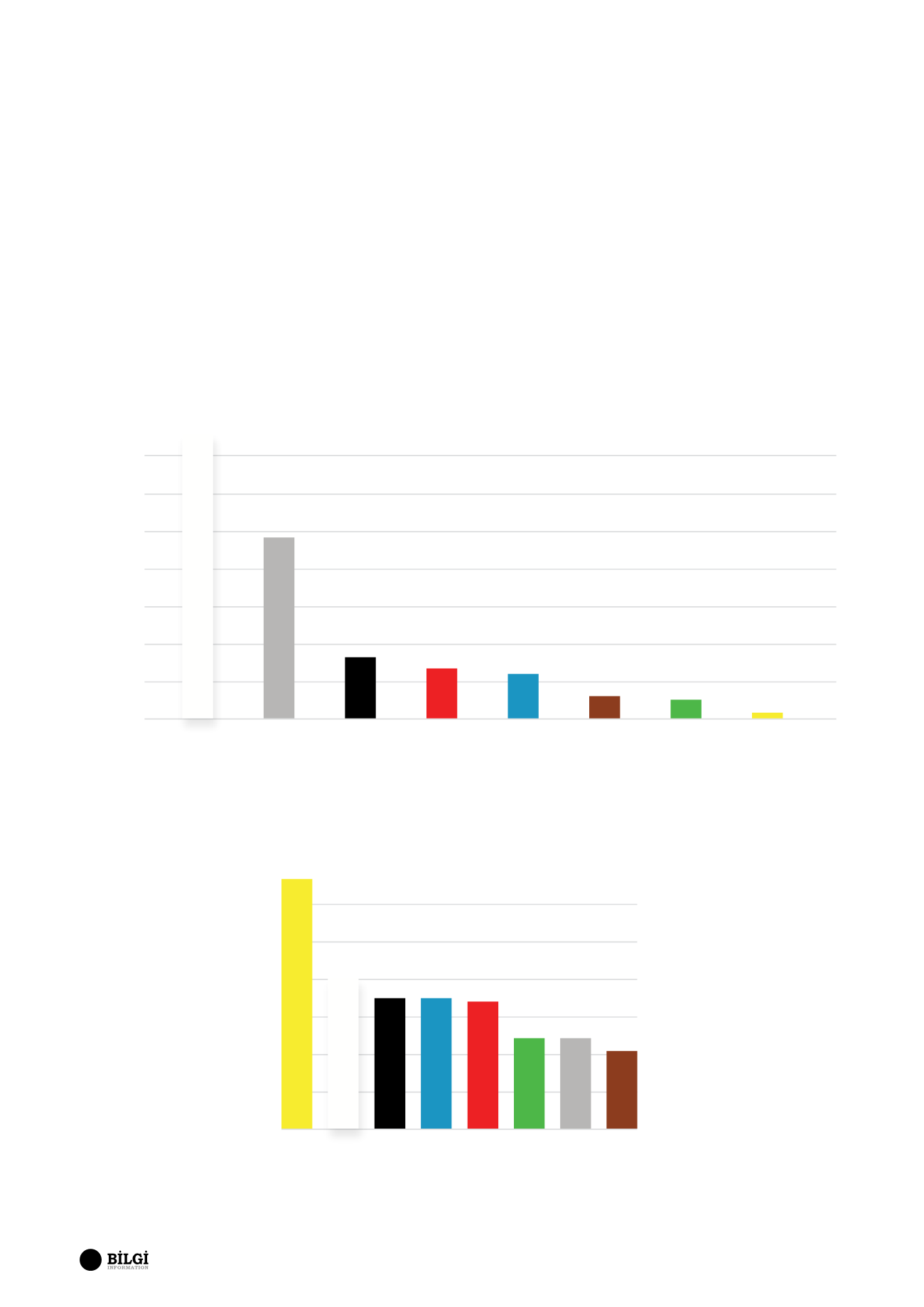 82
Rapor ·
Report
TRAFİK KAZALARINDA ARAÇ RENGİNİN ETKİSİ OLABİLİR Mİ?
DO VEHICLE COLORS PLAY A ROLE IN TRAFFIC ACCIDENTS?
2016 yılı içerisinde, trafik poliçe adetlerinin yaygın
olarak kullanılan renklere göre dağılımı aşağıdaki
grafiklerde yer almaktadır.
2016 yılında en çok
poliçe adedine sahip
olan renk "Beyaz" iken,
hasar frekansı en fazla
olan renkler sırasıyla
"Sarı", "Beyaz" ve
"Siyah" olduğu
gözlemlenmektedir.
The chart below provides a breakdown of number of
liability insurance policies based onmost commonly
used vehicle colors for 2016.
While the color with
the highest number
of policies in 2016 was
"White", the colors
with the highest claim
frequencies were
"Yellow", "White" and
"Black" respectively.
BEYAZ
White
GRİ
Grey
SİYAH
Black
KIRMIZI
Red
MAVİ
Blue
KAHVERENGİ
Brown
YEŞİL
Green
SARI
Yellow
0
1.000.000
500.000
3.000.000
POLİÇE ADETLERİ
NUMBER OF POLICIES
1.500.000
2.000.000
2.500.000
3.500.000
* Grafikler trafik poliçeleri için poliçe tanzim tarihi, hasar dosyaları için hasar ihbar tarihi baz alınarak hazırlanmıştır. Ocak-Ekim 2016 verileri baz alınmıştır.
*
The charts were created based on Policy Arrangement Date for Liability Insurance Policies, and based on Claim Notification Date for Claim Files.
Charts are based on January-October Data.
5424 K
BEYAZ
White
GRİ
Grey
SİYAH
Black
KIRMIZI
Red
MAVİ
Blue
KAHVERENGİ
Brown
YEŞİL
Green
SARI
Yellow
HASAR FREKANSI (%)
CLAIM FREQUENCY (%)
12,9
7,6
6,2 6,2 6,1
5,3 5,3
4,8
3403 K
1067 K
980 K
832 K
380 K
308 K
213 K