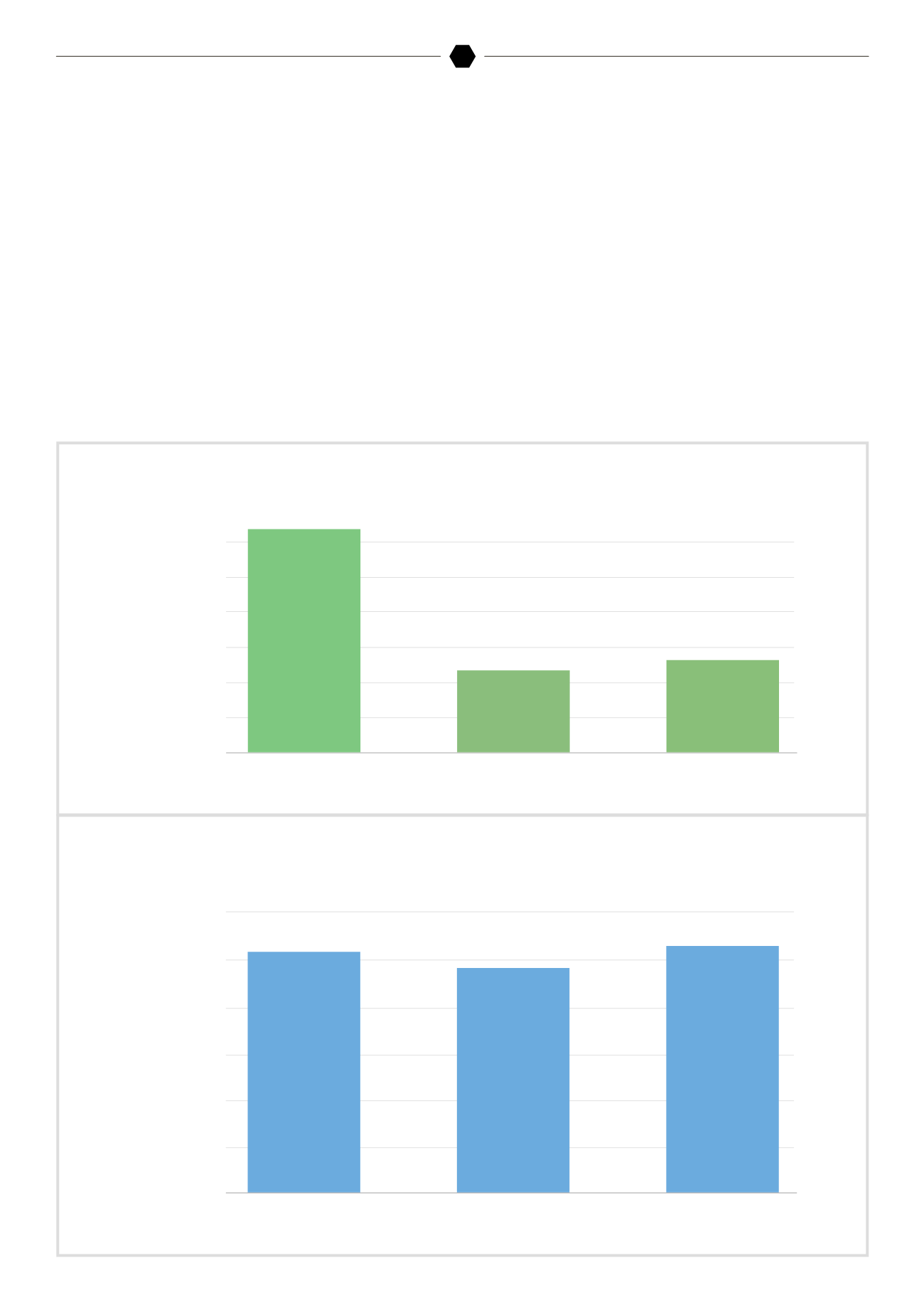 78
SAĞLIK SİGORTALARI
HEALTH INSURANCE POLICIES
RAPOR
REPORT
Sağlık Sigortası'nın Sağlık ve Seyahat Sağlık branşlarında 2016 yılı Ocak-
Şubat-Mart aylarında yaklaşık 849 bin poliçe düzenlenmiştir. Bu poliçelerin
%31'i Sağlık olarak üretilmişken, %69'u Seyahat Sağlık olarak üretilmiştir.
Poliçe üretiminde 2016 yılının ilk çeyreğinde, 2015 yılı ilk çeyreğine kıyasla
%34'lük bir artış sağlanmıştır. 2016 yılı Ocak-Şubat-Mart aylarında yaklaşık
1.136 bin poliçe primi üretilmiştir.
Poliçe adedi ve prim üretimi aşağıdaki grafikte gösterilmiştir.
In the Health and Travel Health branches of Health Insurance, a total of
around 849 thousand policies were arranged during the period of Janu-
ary-February-March. While 31% of these policies were arranged in the
Health Branch, 69% were arranged in the Health Travel branch. A 34%
increase was observed in the total number of policies arranged from the
first quarter of 2015 until the first quarter of 2016. A total of around 1,136
policies were arranged during January-February-March of 2016.
Total number of policies arranged and amount of premium generated are
shown in the graph below.
300000
250000
200000
150000
100000
50000
0
Ocak '16
January '16
Şubat '16
February '16
Mart '16
March '16
Poliçe Adedi
Number of Policies
600,000,000.00
500,000,000.00
400,000,000.00
300,000,000.00
200,000,000.00
100,000,000.00
0
Poliçe Primi
Policy Premiums
Ocak '16
January '16
Şubat '16
February '16
Mart '16
March '16