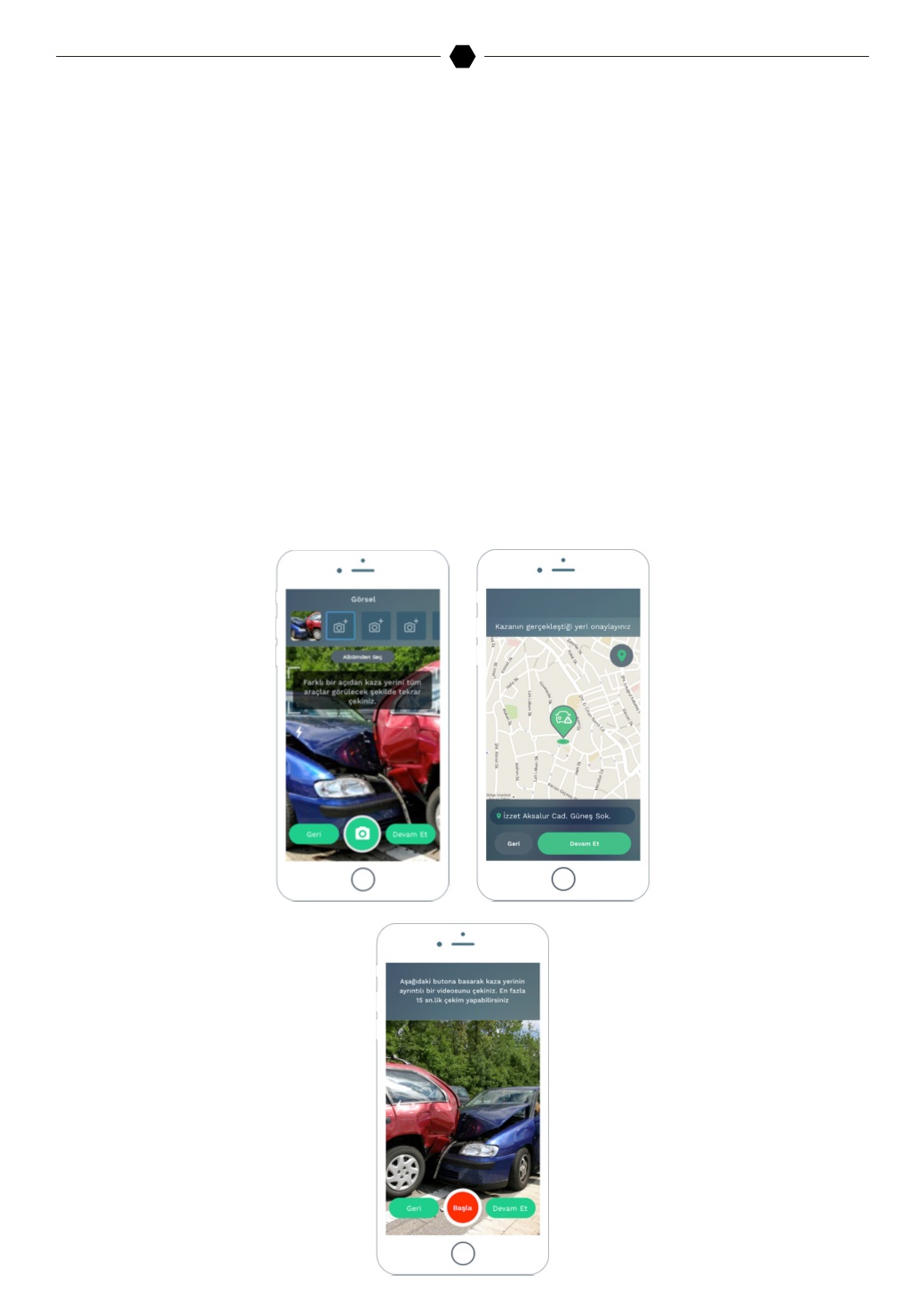 Yol
gösterici
ekranlar:
Uygulamanın her ekranına
kullanıcı yönlendiren mesajlar
eklenmiştir. Kaza fotoğrafının
nasıl
çekileceğinden
tutun, hangi işlemin nasıl
yapılacağına kadar tüm bilgiler
kullanım sırasında kullanıcıya
verilmektedir.
Video çekim özelliği:
Uygulamaya eklenen
video özelliği ile birlikte kaza yerinin kısa
bir videosu çekilebilmektedir; böylece
kaza analizinin daha kolay yapılabilmesi
sağlanacaktır.
Gelişmiş Profil:
Gelişmiş profil özelliği
sayesinde kaza anındaki işlemleriniz büyük
bir ölçüde azalacak. Mevcut versiyonda
yalnızca sigortalı bilgilerini girebildiğiniz
profil adımında, yeni versiyon ile birlikte tüm
sürücü bilgileri, ehliyet resimleri ve ruhsat
resimleri girilebiliyor. Böylece kaza anında
geriye sadece kaza yorumunun yapılması ve
senaryo çizimi kalıyor
(sonraki sayfada)
.
Guidance screens:
Every
screen now has messages to
guide the user. All informa-
tion including how the acci-
dent photograph will be taken
and how each transaction will
be comp- leted are provided to
the user as they use the appli-
cation.
Video recording feature:
With the new video
recording feature, users can now make a short
video recording of the accident scene. This
would facilitate the accident analysis process.
Advanced Profile:
With the advanced profile,
the report creation process will be simplified
to a great extent. In the profile step, which only
allows users to enter insurance information in
the current version, users can now enter all
driver information, driver license picture and
registration picture in the new version. This
way all that's left after an accident is to write
the commentary on the accident and to draw
the scenario (next page).