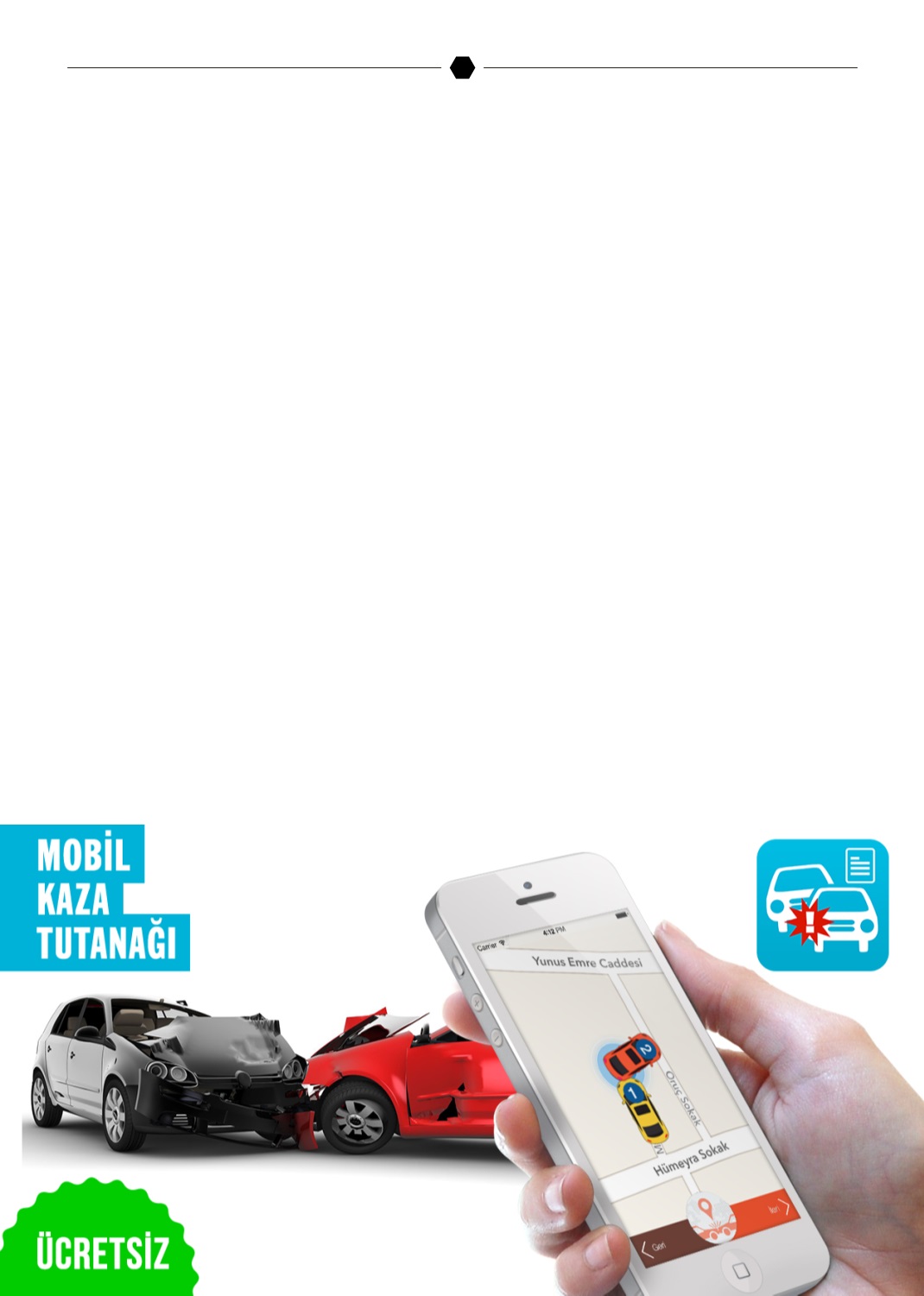 24
Nisan 2008 tarihinden bu yana kağıt form ile düzenlenen
Kaza Tespit Tutanakları akıllı telefonlardan da doldurula-
biliyor. Mobil Kaza Tutanağı (MKT) uygulaması dünyada
ilk defa Türkiye'de, hayata geçirildi. Şu ana kadar top-
lamda 9.000'in üzerinde kazada kullanıldı. Sigorta Bilgi
ve Gözetim Merkezi (SBM) tarafından geliştirilen Mobil
Kaza Tutanağı uygulaması ile sürücüler, tutanak doldur-
ma işlemini cep telefonları aracılılığıyla çok daha hızlı ve
kolayca yapabilme imkanına sahip. Uygulama ile, kazala-
rın sonuçlanma süresi 10 dakikaya kadar düştü!
SigortaBilgiveGözetimMerkezi(SBM)tarafındangeliştirilen
ve kullanıma açılan Mobil Kaza Tutanağı (MKT) uygulaması
T.C. Başbakanlık Hazine Müsteşarlığı Sigortacılık Genel
Müdürlüğü tarafından yayınlanan genelge doğrultusunda
hayata geçirildi. Uygulama üzerinden doldurulan tutanaklar
devlet kurumları ve sigorta şirketleri nezdinde resmiyet ve
geçerlilik taşıyor.
Accident Reports which are being created using paper
forms since April 2008, can now be created on smart
phones. The Mobile Accident Report (MKT) application
was launched for the first time in Turkey. Until now,
the application was used in over 9.000 accidents. With
the Mobile Accident Report application developed by
Insurance Information and Monitoring Center (SBM),
drivers can now prepare their accident reports on their
smart phones much more conveniently and quickly. The
new application brought claim processing times down to
10 minutes!
Developed and launched by Insurance Information and
Monitoring Center (SBM), the Mobile Accident Report
application has been brought to life in accordance with the
circular issued by the General Directorate of Insurance of
Treasury Undersecretariat of the Prime Ministry of Turkish
Republic. The accident reports created with this application
are legally valid for use by public offices and insurance
companies.
İLK YILINI TAMAMLAYAN
MOBİL KAZA TUTANAĞI
'NA
KULLANICILARIN YOĞUN İLGİSİ DEVAM EDİYOR
Continuing interest of users in the mobile accident report
which completed its first year
SBM'DEN
FROM SBM