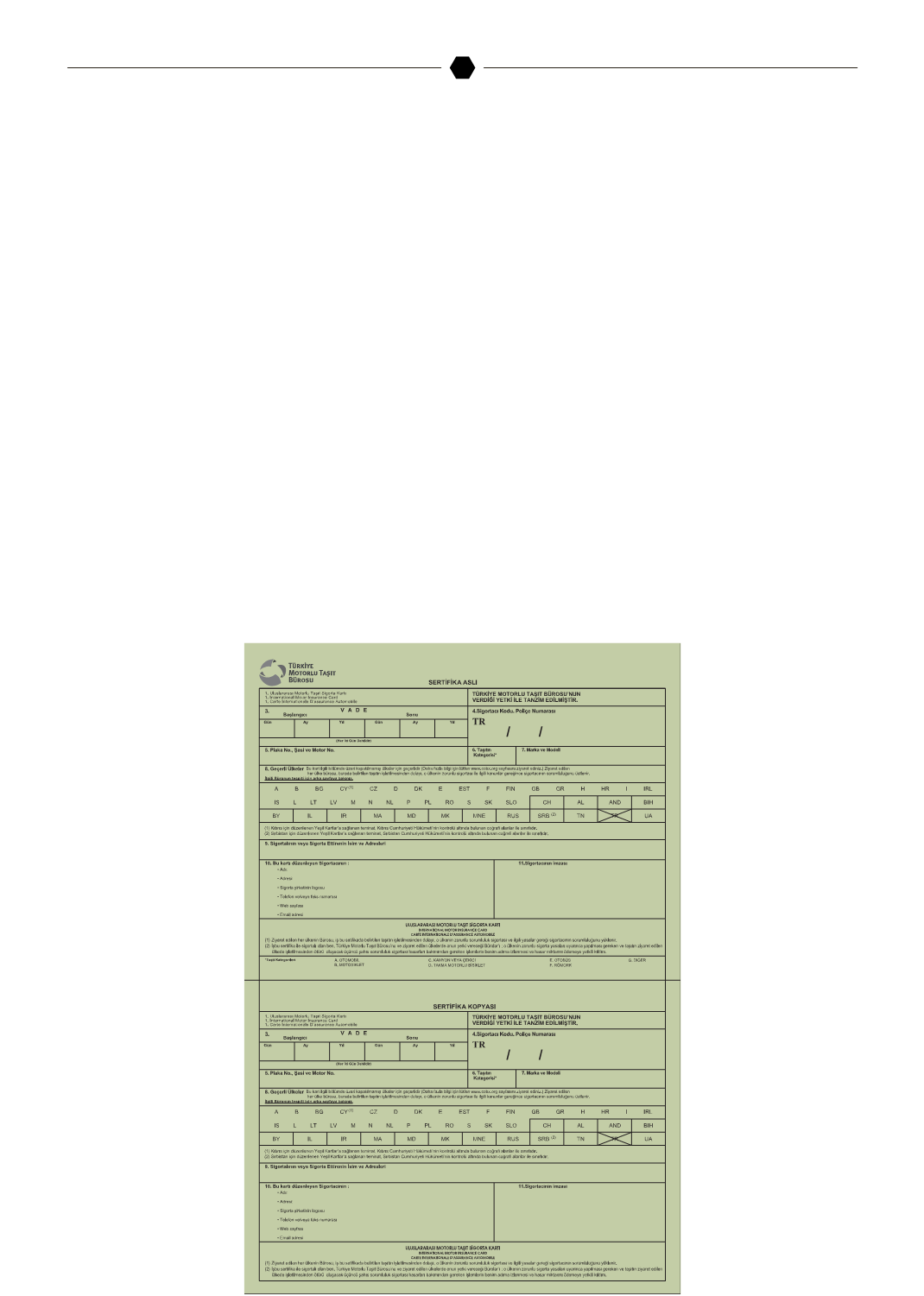 34
Yeşil Kart Sistemi olarak bilinen uluslararası motorlu
taşıt sigorta sertifikası sistemi, 01.01.1953'te yürürlüğe
girmiştir. Bu sistemin amacı, ülkeler arasında seyahat eden
motorlu taşıt kullanıcılarına yardımcı olmak ve ayrıca ilgili
motorlu taşıt kullanıcılarının seyahat ettikleri ülkelerde
neden oldukları kazaların sonucunda zarar görenlerin
korunmasını sağlamaktır. Elli yılı aşkın süredir uluslararası
düzeyde varlığını sürdüren Yeşil Kart Sistemi'nin başarısı
tartışmasız olup, sistem temel amaçlarına fazlasıyla
ulaşmıştır.
Şu an sisteme 47 ülke dâhildir. 01.01.2016 tarihinden iti-
baren AZERBAYCAN da
Yeşil Kart Sistemi'ne da-
hil olacaktır. Yeşil Kart
Sistemi'nin
işle-yişini
sağlamak, yani Yeşil
Kart Sistemi dâhilinde
herhangi bir ülkeye
kayıtlı motorlu bir taşıtın
ülkesi dışında neden
olacağı trafik kazası
sonucu ortaya çıkan
maddi ve/veya bedeni
zararları
karşılayabil-
mek amacıyla, sisteme
dâhil ülke hükümetleri
tarafından
tanınan
Yeşil
Kart
büroları
kurulmuştur.
Kendi ülkesinin Yeşil
Kart bürosuna üye ol-
mak kaydıyla, ulusal
sigorta şirketleri kendi
ülkelerinin dışına seya-
hat edecek araçlara
Yeşil Kart Sigortası
Poliçe Sertifikası düzen-
ler. Sertifika adından da
anlaşılacağı üzere yeşil
The international motor-vehicle insurance certificate
system also known as the Green Card System took effect on
01.01.1953. The purpose of this system is to help the drivers
of motor vehicles that travel internationally and to provide
coverage damage caused to third parties as a result of
accidents during these international trips. Existing for over
50 years at the international level, the Green Card system
has been undoubtedly very successful and effective and the
system has served its main purposes.
Currently 47 countries are in this system. Starting from
01.01.2016, AZERBAIJAN will be in Green Card System
too. Member stats have
established green card
offices that will provide
compensation for ma-
terial and/or physical
damages resulting from
accidents that a mo-
tor vehicle registered
in a certain country is
involved in, in another
country in the system.
By becoming a member
of the Green Card office
of its country, a nation-
al insurance company
can arrange Green Card
Insurance Policy Certifi-
cate for vehicles that will
travel internationally.
As the name implies,
the certificate itself is
in green. It is prepared
in two copies and has
no scratches or erased
parts on it. All Green
Card Certificates issued
as part of the Green
YEŞİL KART SİGORTASI POLİÇE SERTİFİKA BASIMINDA
ORTAK YAPIYA GEÇİŞ
TRANSITION TO THE COMMON FORMAT FOR POLICY CERTIFICATES
FOR GREEN CARD INSURANCE
HABER
NEWS